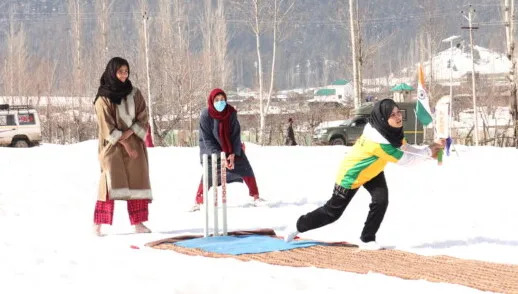 Jammu and Kashmir, India: The Jammu and Kashmir Armed Forces has organized a Women's Snow Cricket tournament in Panzgam village in Kupwara district of North Kashmir on Thursday, 16 February 2023, under the 'Khelo India Initiative' launched by Prime Minister Narendra Modi
According to the reports, the Women's Snow Cricket Tournament held in North Kashmir's region hosted a total of four women's cricket teams from both the Kralpora and Meelyal Block of the area.
In addition, The armed forces in North Kashmir have issued their remarks regarding the event and cited, "The cricket tournament in Kupwara was first of its kind organized in Jammu and Kashmir, wherein young girls took part and showcased their game spirit on a snowy field."
Furthermore, "The participating girls in all the four teams engaged in the tournament and played with sheer enthusiasm and passion on the snowy field, which also demonstrated the will of the region's young generation to get involved in outdoor sports." the Jammu and Kashmir armed forces.
As per the reports, while the women's cricket tournament was being played in the Kupwara district of North Kashmir, people from distinguished places came to witness the event along with locals and Public representatives, as it was the first-ever sports tournament held in winter for girls in the north Kashmir region.
On its part, the armed forces of the region also explained the significance of such sports tournaments organized in the Union Territories of Jammu and Kashmir, as organizing such events on a frequent basis in the Kupwara region had witnessed the participation and keenness of local women on a large scale.
In the end, "Several initiatives by the Army like the establishment of skill development centres and organizing competitions in schools to promote participation and engagement in extracurricular activities and sports are initiating a positive change. Indian Army is committed to playing a role in encouraging sports amongst local youth," the Army said.