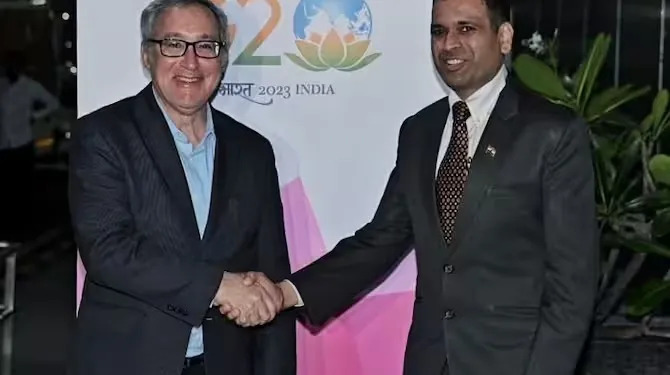 India, New Delhi: The Brazilian Minister of Foreign Affairs, Mauro Vieira, along with International Labour Organization (ILO) G2O (Group of 20) Sherpa Richard Marc Samans and his Mauritius counterpart, Alan Ganoo has touched down in India on Tuesday to participate in the Foreign Ministers Conference of G20 which was scheduled to be held between March 1-2, noted reports.
According to the reports, Arindam Bagchi, an Indian diplomat and former civil services officer serving as the official spokesperson from the Ministry of External Affairs of India, took to his official Twitter account to make the information public about the recent arrival of Ministers from different places.
In his tweet, Bagchi tweeted and shared the news with the residents of India and stated that Foreign Ministers had arrived in India in order to attend the 1st conference of the G20India summit, which had begun already.
He further extended his remarks and welcomed the Foreign Ministers of Mauro Vieira of Brazil along with Minister of External Affairs of Mauritius, Alan Ganoo, who was accompanied by ILO G20 Sherpa Richard Marc Samans to New Delhi to attend G20 FMM on March 1 and 2, 2023. Bagchi also noted that the arrived Ministers will also participate in #RaisinaDialogue2023."
Furthermore, the reports confirmed that the Raisina Dialogue is all set to commence at the Taj Palace Hotel, Diplomatic Enclave from March 2 to 4, 2023, in which Girogia Meloni, Italian Prime Minister, will be hosted as the chief guest of the event. She will also be the keynote Speaker during the 8th edition of Raisina Dialogue 2023, according to the reports of the Ministry of External Affairs.
As per the officials from MEA, India, the Minister of Foreign Affairs Australia, Penny Wong, is travelling to India and Malaysia this week.
In her remarks, Wong said she looks forward to working with her counterparts on how they can address contemporary international challenges, including conditioning of the multilateral system, humanitarian assistance and food and energy security, as well as disaster relief. 
She stated that Australia strongly supports India's G20 Presidency and welcomes India's ambitious, action-oriented G20 agenda. The theme for this year will be 'One Earth, One Family, One Future.'