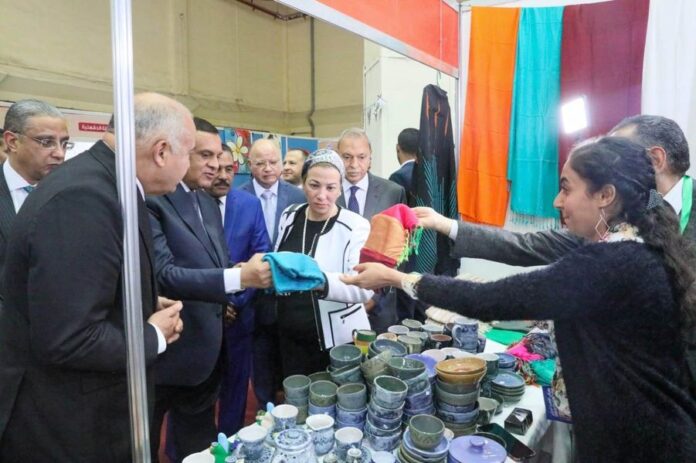 Middle East, Egypt:  The Minister of Environment of Egypt, Dr Yasmin Fouad, has recently updated us regarding the participation in the opening ceremony of the "Hands of Egypt" exhibition for handicrafts and heritage products, session 2020 at the Cairo International Exhibition.
According to the recent updates, The Minister of the Environment, Dr Yasmin Fouad, stated, "We strive to utilize natural resources to manufacture sustainable products and provide green jobs for local communities and youth."
On her part, Dr Yasmin Fouad, Minister of Environment, participated in the event with Major General Hisham Amna, Minister of Local Development, in the opening of the "Hands of Egypt" exhibition to promote products, handicrafts and heritage within the events of Cairo International Exhibition in its (3) rd Session.  
The reports further updated that the event will be commenced during the period from 9 to March 30, 2020. The Hands of Egypt participate in the exhibition with free wings for all governorates. 
"The Republic (4 governorates) to display heritage handicrafts from each governorate, and to increase marketing opportunities for small producers from all governorates of the republic under the presence of a number of governors," said reports.
Furthermore, "The hand-made products reflect the Iraqi culture and its impact on life, the ability of Egyptian hands to produce a distinctive, high-quality product, and take advantage of natural and environmental resources in making sustainable, eco-friendly products that preserve Egyptian heritage," said Minister Fouad. 
She further clarified that within its strategy to develop the management of nature reserves, the Ministry of Environment had taken care of Integrating local people to be an integral part of the preservation and sustainability of the reserves by offering their heritage and environmental products—reliance on natural resources as a source of livelihood and livelihood for them.
The minister added that waste recycling is one of the craft industries that have become a livelihood for many young people, so the Ministry of Environment is working in the coming period to provide investment opportunities in this field, focusing on reserves and waste as promising areas to provide realistic green job opportunities.
Minister, Fouad further drew attention to the importance of initiatives related to domestic and handicraft industries, such as the Hands of Egypt initiative to support domestic products and the national economy, provide hard currency, and achieve the conservation of natural resources and sustainable production.
Additionally, Dr Yasmin Fouad was keen to connect with exhibitors on how to conserve natural resources by utilizing them to make sustainable products that contribute to facing local global environmental challenges and achieving sustainable development, including climate change and waste management, highlighting the importance of recycling and utilizing to reduce generational waste that requires safe disposal.
It is noteworthy that the "Hands of Egypt" initiative, carried out under the presence of the President of the Republic, in cooperation with a number of other bodies, is a platform launched by the Ministry of Local Development to support handicraft projects sponsored by the World Food Organization.