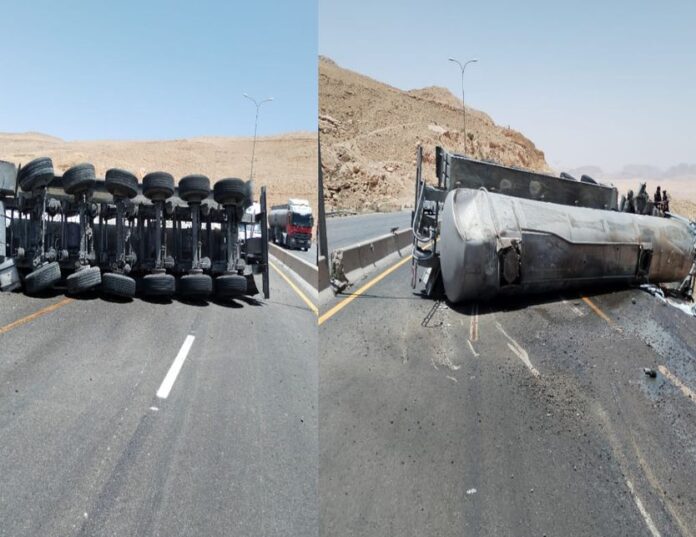 Amman, Jordan: A cargo vehicle (container tank) loaded with phosphorous substance has met with an accident recently and crashed in the middle of the road at the descent of Al-Naqba yesterday, May 25, 2023. Following the accident, one person was taken to the nearest health care centre after getting injured moderately, said the Highway Patrol Department of Jordan.
According to recent information, officials from the Highway Patrol Department have confirmed that the cargo truck crashed while carrying phosphorous, a critical substance to deliver at the destination. 
The reports have stated that the "External patrols are now dealing with a crash accident of a cargo vehicle (tank) loaded with phosphorous substance in the middle of the descent of Al-Naqba."
In addition, while explaining the situation at the crash site and current circumstances, the Highway Patrol Department has stressed that after the crash incident, the vehicle was closed to traffic of leakers going down towards Aqba, which could have caused more damage in the nearby places and people.
As per the information released by the High Patrol Department, it was stated that a moderate injury was reported to one of the persons travelling in the cargo truck, who was immediately hospitalized and taken care of by the local health care centre and medical staff.
Moreover, the local authorities, police department and emergency services arrived at the crash site immediately to provide instant support and assistance to the injured after the crash, said the reports.
Additionally, after the crash, the local authorities have been investigating the accident and diverted the traffic from the other route. 
It was also said, "The traffic was temporarily interrupted in front of Ras Al-Naqab station towards Aqaba, and traffic was diverted to the opposite lane until the obstacles were removed from the main street."
The officials from Highway Patrol Department have also confirmed, "Our patrols are on-site for guidance and support. 
Fellow drivers on the mentioned road were provided guidelines to follow while passing through the crash site and encouraged to adopt extra safety measures." 
In the end, it was said that "Please be careful and follow the instructions of the security man on-site."