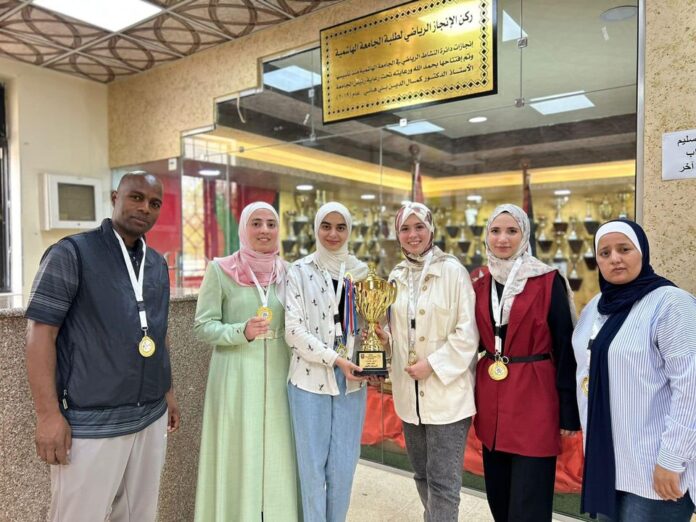 Jordan: The Hashemite University Chess team has bagged the first position in the recently held Jordanian Universities Sports Federation Championship and claimed trophies and gold medals. 
The Directorate of Student Affairs, represented by its Dean, Mr Dr Sadiq Shdifat, has expressed immense pride and happiness regarding the great results achieved by Hashemite University's talented students. 
According to the recent updates, the Dean of Student Affairs, Sadiq Shdifat, took to the official social media handle of Hashemite University to extend the heartiest congratulations and greetings to the chess team players. 
He stated that the students have made the university proud with their exceptional performances throughout the tournament. 
Hashemite University has also stated that a student named Reem Abu Maiala won second place in the general individual; the second and third places in the table were for the student Reem Abou Maiala and the student Lynn Al-Bashaira. 
The reports, it was stated that the Jordanian University Sports Championship was conducted and concluded by Al-Bayt University For two days. 
Furthermore, the winning teams from the universities were crowned under the sponsorship and auspices of the President of Al-Bayt University, under the proxy of Dr Bassam Al-Mhasna.
On his part, the Directorate of Student Affairs and dean of the Hashemite University, Dr Sadiq Shdifat, and vice dean, Dr Ali Nawaisa, for the university have acknowledged the efforts of the chess team and the coaching staff players for accomplishing the results in favour of the university. 
In this context, the Dean of the Student Affairs of Hashemite University, Sadiq Shdifat, has mentioned the names and departments of the players in order to recognize and praise them following the victory. The names have resembled below: –
– Len Musa – Doctor of Medicine
– Reem Abu Mayala – Doctor of Medicine
– Lin Al-Bashaira – Geology
– Crib feeding – clinical nutrition and diets
– Abdullah Al-Safrati – Electrical Engineering
– Abdul Rahman Al-Mahrouq – Nursing
– Mahmoud Barqawi – Mecatronics Engineering.
– Amin Rizq – Doctor of Medicine
– Abdulmaaz Bani Salama – Clinical nutrition and diets
The authorities of the university also recognized the guidance and teachings of the coaches as well and honoured the coaching staff, including Captain Khidr Abu Mubarak and administrative team captain Imad Al-Moumini and Miss Yasmine Al-Amoush.