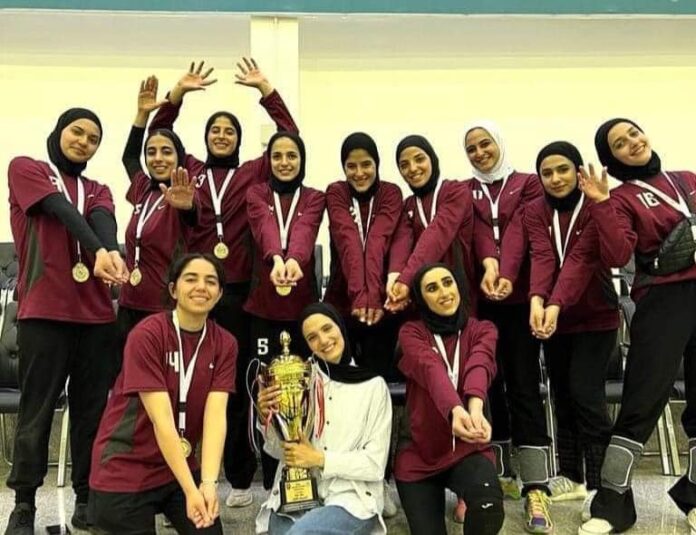 Jordan: The Hashemite University of Jordan has sealed the first position in the Women Volleyball University Championship today, May 22, 2023, organized by the Jordanian Sports Federation and held by Al-Bayt University. 
Hashemite University defeated the Jordanian University Team by the final scoreline of 2/1 after a well-deserving performance in the finals.
According to the recent updates from the sports faculty of Hashemite University, the dean of student affairs, Mr Sadiq Shadifat, has expressed his immense pleasure and joy regarding the accomplishment and sweet victory of the Women's Volleyball team.
In addition, the University officials took to its official social media handle to share the great news with the residents and citizens of the country, along with sharing their regards to the team players for their exceptional and magical performances throughout the competitive tournament. Dean of student affairs, Sadiq Shadifat, further extends congratulations to the all-women players of Hashemite University while acknowledging their hard work and sheer efforts.
The shared update read that "The Hashemite University Volleyball team won the first-place trophy for the Jordanian Universities Championship." Furthermore, it was also said that the victory was achieved after a significant show of team effort and sheer coordination among the players of the Women's volleyball team.
Moreover, "Hashemite University claims victory over the Jordanian University team in the final match of the Jordanian Sports Federation Championship held by Al-Bayt University with a score of 2/1," stated the officials.
Additionally, it was also said that "The students of the team presented the victory to the kindness of the President of the University, Mr Dr Fawaz Abdel Haq Al-Zaboun, appreciating his kindness and support to the team."
The players also extended their heartfelt greetings and thankfulness to the dean of Student Affairs of Hashemite University, Sadiq Shadifat, and the director of the sporting activity, Dr Ali Al Nawaisa, for their follow-up and continuous support to the team.
Hashemite University sports authority further mentioned the names of all the victorious players of the women's volleyball team to recognize their extraordinary performances and team effort during the tournament.
– Rand Haymore
– Raghad Haymor
– Nancy net
– Dania Ayman
– Israa Jalal
– Madness of decency
– Qari'e lighthouse
– Prostration of Saleh
– The security of Haymor
– Ranim Hassouna
– Sarah Al-Amiri
– The dew of Abu Goat
In the end, the coach of the Women's Volleyball team, captain Khalil Saad, and team management by captain Taghrid Mo'menah were also highly praised for their supportive measures to the players and guidance.