Qatar: Every year, Pakistan International School-Qatar (PIS-Q) manages to accredit the strenuous efforts of its laudable students by awarding them with medals, prizes and certificates.
This year also on 6th September 2022, PIS-Q organised a vibrant and pulsating award ceremony to honour high achievers in the Higher Secondary School Certificate (HSSC) examinations conducted by the Federal Board of Intermediate and Secondary Education, Islamabad, during the session 2020-2022.
Meritorious students of the Cambridge Wing were also awarded certificates and medals on this auspicious occasion.
---
---
The ceremony consisted of festive performances of shining stars of KG and Primary Wing, such as a cultural performance of KG wing and a dance performance on an Arabic song related to success and jubilation. The excitement of the FIFA World Cup was also exemplified by the beautiful performance of PIS-Q students.
During the much-awaited prize distribution segment, more than 100 students in HSSC categories and in the Cambridge wing received accolades for attaining 'A1' and 'A' grades in the presence of their delighted parents and faculty members.
The most coveted shields and rolls of honour were accorded to the top slot winners. The gratified recipients of the 3rd place winner awards included: Hassan Shahid (HSSC, Pre-Medical), Sadganj Ali (HSSC, Pre- Engineering), Farid Abdullah (HSSC, Science General), Suneeda Mohammad Karim (HSSC, Commerce) and Musfira Obaid Ullah (HSSC, Humanities).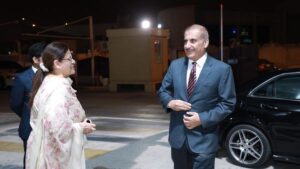 Whereas Aljohra Abeer (HSSC, Pre-Medical), Bashayer Hussain (HSSC, Pre-Engineering), Afaq Gul (HSSC, Science General), Saima Saifoor Khan (HSSC, Commerce) and Naima Farooq (HSSC, Humanities) were on the list of those who notched overall 2nd positions in their respective groups. The biggest rewards were awarded to those who bagged the overall 1st positions in their respective groups. These included: Shermin Bokhari (HSSC, Pre-Medical), Hafsa Siddiqui (HSSC, Pre-Engineering), Mustafa Lal Sahib (HSSC, Science General), Maha Imran (HSSC, Commerce), Amina Sher Bahadar (HSSC, Humanities).
Commendable students of IGCSE were also awarded with certificates of appreciation. Khadija Yousaf, Noura Muhammad, Rumaisa Attique, Hakeemat Opeyemi, Omer Saeed, Maheen Rahat, Odejobi Ayoyinka Halimet, Aisha Khatoon and Afefa Maryam from IG-III received certificates. From IG II certificates were awarded to Haiqa Anwar, Huda Nasir, Sojoud Hamid Idris, Momina Moazam, Fatima Javed, Khadija Rehan, Rida Fatima, Arsha Fatima, Aisha Aamir, Ayan Zeb, Areej Zeb, Afifa Adnan, Ammar Ahmed and Ali Hussain.
---
---
His Excellency, Syed Ahsan Raza Shah, Ambassador of the Islamic Republic of Pakistan to the state of Qatar who was the chief guest, felicitated the achievers on their outstanding academic performances.
"Ever since its inception, the core objective of this renowned institution has been laid in turning our individuals with humane touch through education along with their holistic development.
The students of PIS-Q have been bringing laurels to the school due to their outstanding performance in the Federal Board exams. I, myself being a parent, have no doubt in saying that this institute does not only focus on imparting quality education but a lot of emphases is laid on moral values and character building of students. Therefore, I feel proud to announce that now the number of admissions in our school has increased due to the excellent results of students and constant efforts and wise planning of Madam Nargis Raza Otho, Principal PIS-Q," he said.
The award ceremony was concluded with an acknowledgement of all the teachers of these high achievers, and certificates of appreciation were given away to 23 teachers of Cambridge, Senior Boys' and Girls' Wing of PIS-Q.