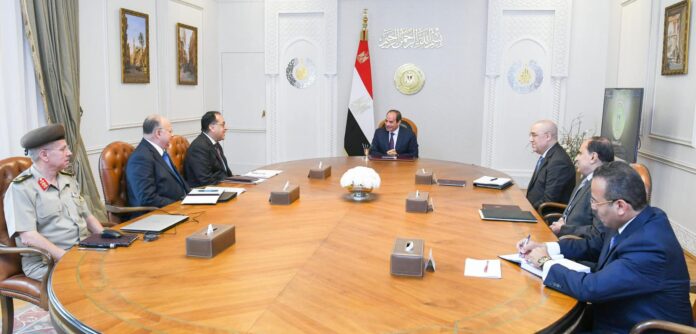 Egypt: President Abdel Fattah El-Sisi held an extensive meeting with the Prime Minister of the State, Dr Mustafa Madbouly, along with a number of other ministries and government officials to follow up on the ongoing projects related to historical sites and national structures in Cairo, Egypt.
According to the information, the meeting was also joined by the Dr Asim Al-Jazzar, Minister of Housing, Facilities and Urban Societies, Major General Khaled Abdul-Al, Governor of Cairo, Major General Amir Syed Ahmed, Adviser to the President for Urban Planning, and Major General Ahmed Al-Azazi, Chief of the Engineering Board of the Armed Forces.
Furthermore, it was claimed that the meeting witnessed the follow-up of ongoing projects to develop Cairo's historic areas, including the area surrounding Salahuddin Al-Ayoubi Castle, within the framework of the state plan to restore Cairo's urban face and its ancient historical splendor.
The spokesperson of the Egyptian Presidency, Ahmed Fahmy, shared the updates through his official social media handle and noted that the President sought attention to the preservation of historical value sites and archaeological sites and structures.
The updates also claimed that the sites under the follow-up progress highlight the uniqueness and authentic architecture of the region, as well as increase the green spaces to become breathable to the residents of the region.
In addition, Spokesperson Ahmed Fahmy also outlined that it is essential to frequently implement an integrated framework consistent with the ongoing work to develop neighboring communities.
The projects are primarily based on the concept of a way that improves the quality of life in Cairo across various developmental dimensions, whether urban and urban or cultural and tourist.
"President Abdel Fattah El-Sisi further stressed the need to give due interest to the preservation of archaeological sites and facilities of historical value, so as to highlight the unique characteristics and inherent architectural spirit of the region along with preserving the cultural values," noted the reports.  
In the end, the reports also concluded that the ongoing projects also hold great significance for the nation in terms of keeping the historical sites well-maintained for future generations. 
Through this, the cultural and value heritage of the country would be passed to young people and for tourism purposes as well, said President El Sisi.