President of Egypt, Abdel Fattah El-Sisi, has participated, via video conference, at the African Peace and Security Council summit, which was held to research the ongoing crisis in Sudan. The meeting was held in the presence of a number of African presidents and governments, headed by President Yuri Museveni, the President of the Republic of Uganda.
The reports stated that the current President of the Peace and Security Council also attended the meeting, as well as the Chairman of the African Union Commission, the Secretary General of the University of Arab States, the Secretary General of the Organization of the Foundation, and envoy of the Secretary General of the United Nations for the African Century.
"The Peace and Security Council summit focused on discussing ways to reduce escalation in Sudan, coordinating all parties to stop shooting, strengthening humanitarian corridors, and returning to peaceful dialogue," said the reports.
President Abdel Fattah El Sisi delivered a speech during the opening session of the summit, thanking his brother, Ugandan President Yuri Museveni, for taking the initiative to hold this important summit.
He mentioned that the summit represents great value in working towards supporting Sudan to restore its security and stability. President also emphasized in this crucial framework of the utmost importance of close coordination with neighbouring countries to resolve the crisis in Sudan as the most important Impressed by it, and keener to get it done as soon as possible.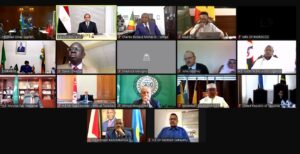 As the Egyptian President affirmed, Egypt's efforts to end the current crisis in the neighbour country Sudan are integrating with various relevant regional paths, including the African Union and the University of Arab States, and are based on a number of determinants and fixities.
Furthermore, El Sisi highlighted the need to reach a comprehensive and sustainable ceasefire; and the duty to preserve state institutions. Patriotism in Sudan is the basic guarantee to protect the state from the risk of collapse.
He further affirmed that the conflict in Sudan belongs to the Sudanese brothers themselves, and therefore the role of the regional parties is to help them stop it and to reach an agreement on resolving the causes that led to it in the first place.
In this regard, the President also stressed Egypt's respect for the will of the Sudanese people, not to interfere in its internal affairs, and the need to not allow foreign interventions in its current crisis. 
It was reported that certainly, Egypt would continue to make all efforts to end the current crisis, including by supporting the efforts of the African Union and all existing mechanisms.
It is noteworthy that to end the current conflict, as well as the continuation of coordination with all partners and relief organizations, to support efforts to provide urgent humanitarian needs for Sudan to alleviate the deteriorating humanitarian situation.