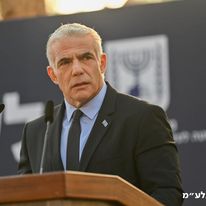 The Prime Minister of Israel, Yair Lapid, addressed Benjamin Netanyahu, an Israeli Politician and member of the Knesset, criticising his approach towards handling the government. As per the reports, Netanyahu is expected to become the prime Minister of Israel following the legislative elections held on November 1.
PM Yair Lapid stated in his message, "Mr Netanyahu, I don't get lessons in democracy from you". He said that he would not follow the one involved in running a foreign-funded poison machine that deals and is directly connected to the insults and humiliation of the people and community of the lowest kind.
Furthermore, PM Lapid pointed out that the government of Netanyahu will not be followed as it reflects those who stand in the way of court steps and are against the rule of law and order of the nation.
Moreover, Yair Lapid added that the nation would not follow in the footsteps of a leader who is currently accused and indicted for his involvement in supporting terrorism to the Minister of Homeland Security and a serial offender to the Minister of the Interior.
In his message, Lapid called Netanyahu "someone who has broken every promise he's ever made, and his partners also admit he's a serial liar".
Such allegations are considered a critically serious concern towards handing over the government to such a party and leader who is not worth trustworthy. He noted.
Lapid further mentioned that in the past year, there had not been a single moment when Netanyahu respected Israeli Democracy and the ill-treatment of Knesset member's children.
He said, "you activated violent gangs and groups against our people on the bridges along with the eyewitnesses in the trial".
"This trick of calling others to behave like a king while you have lost all ties to royal behaviour does not impress me. We're not your suckers; we're not just here to send our kids to the military and left to pay taxes ". Lapid added.
Moreover, in his statement, Lapid said, "you are the son of a gentleman to the Minister. You are the one who rushes to make political use of every terrorist attack against civilians and soldiers. You are the one who put a deputy minister in the office who opposes women's service in the army".
"You are the one who, due to who sold the values and heritage of the National Camp due to his interest in a radical group of outlaws over whom you lost all control".
In the end, PM Lapid said," We are fighting in every arena and in every legal way to keep Israel Jewish, democratic and liberal".