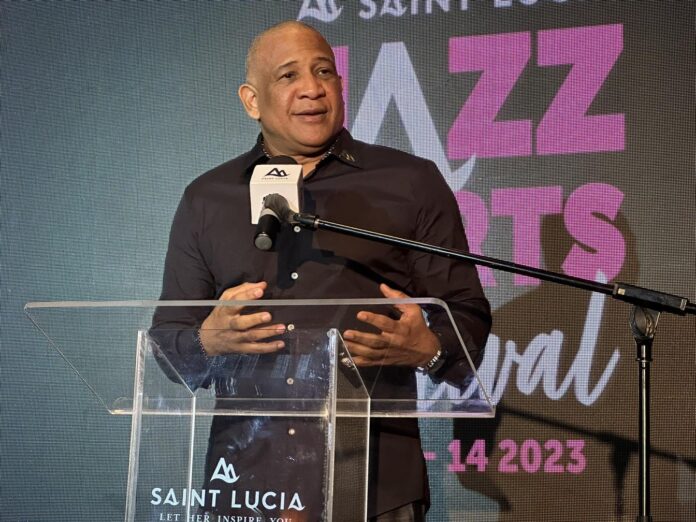 Castries, Saint Lucia: Ernest Hilaire – Deputy Prime Minister of Saint Lucia, has expressed his joy and happiness as the nation gears up for the biggest-ever upcoming Jazz and Arts Festival. He took it to invite his fellow Saint Lucians with heart-warming greetings to actively participate in the festival's events and showcase their creative and innovative skills.
According to the updates, Deputy Prime Minister Hilaire took to his official social media account to extend his invitation to the residents and citizens of Saint Lucia while explaining the significance of their participation as the festival will be incomplete without their essential contribution.
Meanwhile, he encouraged the people to take part in the art events during the festival and noted in his Facebook caption, "As we gear up for the return of the Saint Lucia Jazz and Arts Festival this year, it would not be a true Saint Lucian festival without the participation of our people."
"The Cultural Development Foundation is inviting all Saint Lucian Artists to participate in the arts component, Arts and The City," said the Deputy Prime Minister of Saint Lucia while expressing his excitement for the upcoming Jazz and Arts festival.
Furthermore, he extended his remarks, pointed out the country's profound unity, and said, "We are a talented nation, a nation that we are all proud of. Let us put our talents on the show to the world!"
Moreover, DPM Ernest Hilaire called all the artists and creators of Saint Lucia to engage in the art events and shared the criteria and requirements people need to fulfil to take part in the event called 'Art and the City Visual Exhibition,' which read below:
Name of Event: Art and the City Visual Exhibition
Work Media: Painting, Sculpture, Photography, Installations.
Entry Requirements: Artist biography, Title of Work Year of work, Work medium, Size of work – Five to ten (5-10) digital images on email. Pictures should be presented in JPEG format with an image size set to 300 dpi resolution, 4 x6 image size, approximately.
Registration fee: Free Entries Due: April 25th. 2023 Selection Process: Art and the City reserves the right to select all works from submission.
Notification to the artist: Artists will be notified via email
Accepted Artwork: Canvas painting Should not be framed. Artists Art and the City will hang and display work. Wall space pedestals will be provided.
Delivery: Cultural Development Foundation
Exhibit: May 7th, May 11th
Pickup Artwork by: May 12th at 10 am
Publicity: All publicity will be handled by Art Square, CDF and the Saint Lucia Jazz and Arts Festival