Saint Lucia: Deputy Prime Minister of Saint Lucia – Ernest Hilaire, has shared a social media post expressing his greeting and warm wishes to his fellow Saint Lucians along with spreading a positive message and encouraging them to keep a positive attitude all the time and look for the best outcomes possible in very feat.
According to the shared updates, the inspiring message was shared through the official social media handle of the Deputy Prime Minister, Hilaire, where he expressed his thoughts and views on keeping a positive and always keen to-learn attitude which eventually resulted in better conclusions. In his Facebook caption, DPM Hilaire noted, "Positive attitudes result in positive outcomes! Have a blessed Tuesday."
In addition, the Minister of Tourism, Investment, Creative Industries, Culture and Information, Ernest Hilaire, also shared a photograph mentioning an inspiring and motivational quote which read, "Attitude is a 'little' thing which makes a big difference."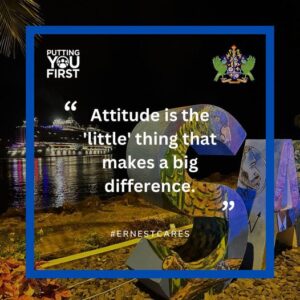 Furthermore, in the shared quote by Deputy PM, specific focus has been put on the term 'Little', which reflects the significance of even the smallest things or efforts which one could put into the work and goals, which gradually makes all the difference and projects positive results and outcomes in the end.
Moreover, Deputy Prime Minister of the Caribbean country, Ernest Hilaire, has also pointed out that keeping a positive and optimistic attitude is one essential trait a person can adopt in his personality. He stressed that every great conviction starts from within a person, and all the thoughts and emotions can also be catered to and channelled in a better direction by focusing on keeping a positive attitude throughout our lives.
Additionally, before jumping onto the big leagues and large-scale goals, a person should focus and create a harmony of taking small but effective steps towards the end goal as all the small steps and little efforts turns the fortune in favour of a person in the end.
It was further conveyed that the positive personality of a person also reflects in his daily deeds, which makes him a better human being in a broad manner; such positive traits also get transferred to the companions and loved ones of a person because a person with positive attitude carries a positive persona.