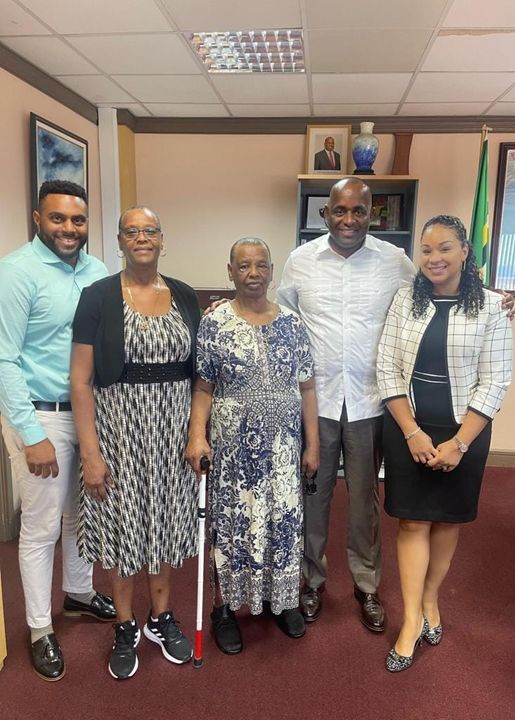 Roseau, Dominica: The Minister of the Commonwealth of Dominica, Dr Roosevelt Skerrit, welcomed his dear friends Jennifer Blanc along with her daughter Claudia Douglas in Dominica on Friday with wide open arms. Both the ladies visited the Caribbean nation from Boston and were welcomed by the Minister of Housing, Melissa Poponne Skerrit. 
While welcoming his dear friends in the Commonwealth of Dominica, PM Roosevelt Skerrit took to his official social media account to share the news and his gratitude towards their visit. He also shared a few photographs as his Facebook post and expressed deep gratification to them. 
In his remarks, he also conveyed that he felt immense happiness while welcoming his dear friend, Jennifer Blanc, along with Claudia Douglas. Through his Facebook caption, PM Skerrit extended his pleasure and noted that this week he had a fruitful visit from his dear friend straight from Boston of Jennifer Blanc and Claudia Douglas.
Meanwhile, in his appreciation post, Prime Minister stated that he had a fruitful and great meeting with the visitors in which they had meaningful discussions on mutual concerns related to both Dominica and Boston. 
Furthermore, he extended his remarks and confirmed that both the ladies expressed happiness and joy to be back in the country, where they exchanged useful ideas with one another.
On their part, Jennifer Blanc and Claudia Douglas also expressed that they are grateful to be present at the moment with PM Skerrit as they got the chance to share their memorable time with the person who played a major role in the development of the Nature Isle, Dominica. 
As per the updates, the Parliamentary Representative from the constituency of Mahaut, Cassanni Laville, was also present during the meeting. Two ladies also provided the Prime Minister, Skerrit, with a gift. Moreover, PM cited that they were thrilled to visit home, and it was an honour to be able to exchange ideas with the two ladies.
Prime Minister of Dominica, Roosevelt Skerrit, also explained the significance of the meeting held in the nation and cited that it was an honour to exchange different ideas with Jennifer Blanc with her daughter Claudia Douglas. He also passed his thankfulness for her most thoughtful gift.