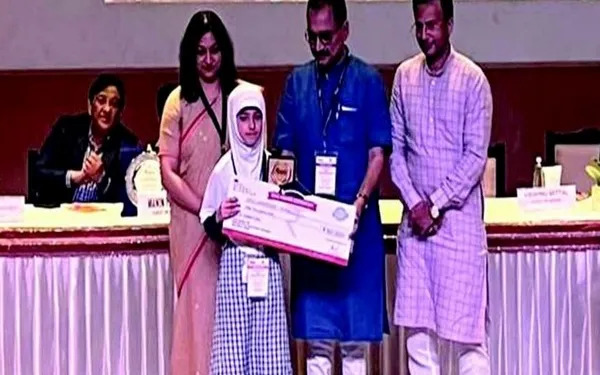 Jammu and Kashmir, India: A student named Affifa Batool has been recently honoured and awarded by the Bilaliya Educational Institute (BEI) located in Srinagar, Jammu and Kashmir, for her exceptional and extraordinary accomplishment of securing first rank in the science stream in the Orange Global Olympiad (OGO). 
She has been acknowledged as the bright kid of the state and has been gathering a lot of recognition and love.
The latest updates shared by the authorities stated that Affifa is a bright and intelligent student of the 4th (fourth) standard and has been performing consistently well in her academics. It has been reported that Affifa has also made her educational institution proud in a number of instances while representing her institute at several events.
In addition, in a statement issued by the Bilaliya Educational Institute (BEI), it has been reported that Affifa has been showcasing her exceptional hard work and dedication from the start. The authorities have applauded the efforts of Affifa by which she accomplished the honour and stated that it is an example of her hard work and perseverance.
The Chairman of BEI, Manzoor Wangnoo, further took it to extend his congratulations to Affifa on her remarkable accomplishment at this age and also recognized and lauded the support of her parents in her journey. He also outlined the important role played by her teachers and principal of the institution, which assisted her in her aspirations.
In his words, he noted that Affifa had become a source of inspiration for the other students of the institution as she motivates her fellow students to work hard and aspire for excellence. He also added that the success of Affifa is a proud moment for the institution, and BEI is committed to providing assistance and support to her during her schooling.
The staff of the Bilaliya Education Institution further extended their congratulatory message while wishing her the best regards for her future aspirations. 
She has become a figure of motivation and inspiration for the students of the valley through her immense dedication and hard work towards her goals, by which she made the institution proud.