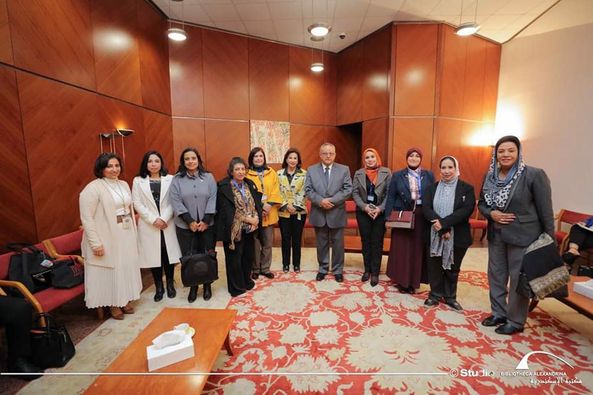 A non-profit organization in Egypt called 'Decent Life' plays a significant role in developing rural areas of the nation under the services of the 'Hayat Karima' foundation.
The organization organized an Educational Awareness Seminar under the Presidential initiative 'Hayat Karima' to promote the efforts of the universities' youth.
As per the recent updates, the Hayat foundation, in association with the other working faculties of the universities and educational institutions, is working towards a common goal.
During the event, several other auspices members both from the university and Hayat Foundation was present along with their delegations, such as Abdul Aziz Tantawi, President of the University, and supervised by Ahmed Harbawi, Vice President of the Jam For Education and Students Affairs,
At the event, Maher Zangour, Dean of the College; Najwa Wa'er, the College Agent for Education and Environment; Osama Zain Al-Abideen, the Head of the Center for Curriculum and Teaching Methods, and the College Agent for Higher Studies.
Besides the mentioned parties, the Karimah Life Coordinator at Alfarafra Centre, Hebat Jamal Al-Din, was accompanied by Joseph Jamal, Karimah Life Center, and Livif, one of the college's professors.
Furthermore, the parties acknowledge and praise the efforts, and positive approaches carried out by different authorities of the Hayat Foundation and Educational Institutions of Egypt.
As per the information, the presidential initiative 'Hayat Karima' was sponsored and backed by the president of the country Abdel Fattah El Sisi, by which the nation has been able to see a substantial improvement in the village areas.
Moreover, Joseph Gamal, Head Of Middleware and Acting Deputy Head Of Development at Egyptian Banks Company, take his time to review all the achievements of the Hayat Karima Foundation.
In addition, officials stated that "The villages of Egypt were targeted by introducing service institutions and working on the development axis of infrastructure and human construction by creating health units, educational and cultural units, traffic, police and technology units, which facilitates a lot of citizens Time, effort and money in villages and rural areas".
In the end, Hebat Jamal Al-Din shed light on the current position and situations of the centres and the city of Farafra, along with the number of projects implemented so far and the number of finished and completed projects in the coming period.