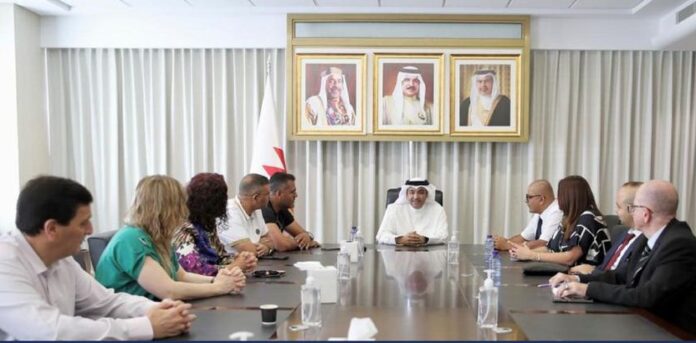 Bahrain: The representative of the Ministry of Health at the Ministry of Health headquarters, Walid Khalifa Al-Manaa, has received a delegation from the State of Israel. The visit of the Israeli delegation to the Kingdom of Bahrain comes to look at areas of promoting cooperation with the Kingdom of Bahrain. 
The meeting was held in the presence of lawyer Murad, the head of the Academic Forum for Health Development in the Arab Community and the General Manager of the Development Fund of Al-Afula Hospital in the presence of several doctors, academics and researchers.
As per the sources, the meeting also aimed at supporting the framework of cooperation in academic and scientific research, cooperation in medical investments and health programs, as well as following up on the latest developments in medical research and sharing experiences between the parties.
At the end of the meeting, the representative of the Ministry of Health welcomed the Israeli delegation and emphasized the importance of such field visits to look at the parties and sectors that fall under the health system. 
He stated that these visits play a significant role in enhancing cooperation in the medical and academic spheres.
He praised the efforts made in bilateral relations that link the Kingdom of Bahrain and the State of Israel in several spheres, including health. During the joint meeting, several of the most prominent topics of mutual interest relating to the health, medical specialities and training fields were researched and reviewed.
The meeting also oversaw ways to enhance cooperation based on this scale during the coming stages through the Memorandum of Cooperation between the two countries. 
The unique experience of the health system in the Kingdom of Bahrain in the health field and various disciplines was reviewed during the meeting.
Furthermore, the sphere of expertise in the health sector, scientific research, medical studies, health services delivery, preventive plans and programs were also discussed.
On his part, the delegation expressed deep gratitude and appreciation for the efforts and efforts to provide everything that can contribute to supporting and strengthening the joint medical cooperation between the two parties.
At the end of the meeting, the spokesman of the Ministry of Health expressed his gratitude and appreciation to all the visiting delegation members, expressing his wishes for the delegation all the best and success in his tasks to enhance the horizons of cooperation between the two countries.