Egypt: Dr Amr Talaat, Minister of Communications and Information Technology, has updated that the British PWC launches Technology and Innovation Centre in Egypt with an investment of $ 10 million. The Centre will provide 5000 job opportunities until 2025 and achieves digital exports worth 300 million dollars over 3 years.
In her remarks, Minister Amr Talaat noted that the establishment of the "BWC" company based in Cairo reflects Egypt's distinctive position on the world map for the purposes of developing and exporting advanced technologies.
The reports stated that Dr Amr Talaat, Minister of Communications and Information Technology, has opened the Egypt Centre for Technology and Innovation (ETIC) of the British PwC (PwC), a world leader in consulting and professional services. It was equipped in Cairo with investments of 10 million dollars.
Through it, the company aims to innovate and apply digital solutions in key areas such as cloud services, data analytics and cybersecurity, making them available in the Egyptian market and export to the company's customers in the Middle East and European markets.
In addition, Egypt Centre for Technology and Innovation (ETIC) has hired 400 technology experts so far. The Centre will provide 5,000 jobs until 2025 and will also achieve $300 million in digital exports over 3 years.
Furthermore, technology experts at the Centre will work with BBC consultancy teams across the Middle East, the UK, Germany and the Netherlands to develop technology solutions focused on enterprise-specific applications, contributing to supporting BWC's business growth in the areas of data science, data analysis, cybersecurity and artificial intelligence.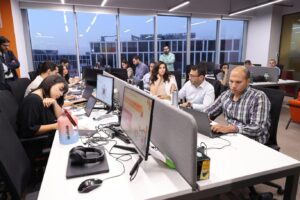 This has been confirmed by Dr Amr Talaat, Minister of Communications and Information Technology, that the interest of international companies, including "BWC" in investing in Egypt and employing Egyptian youth in its centres specialized in developing advanced technologies reflects Egypt's distinctive position on the global map.
It is recognized for developing and exporting advanced technology and value-added services under the pledge system On the confidence of global companies in the competence of Egyptian youth, citing the state's keenness to double digital exports and create a stimulating environment for investment in IT.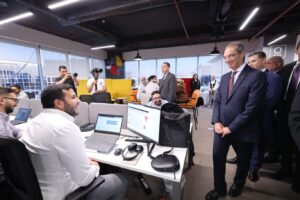 Along with it, the cross-border services sector is also facilitated by providing the necessary support to global companies to expand their operations in Egypt, providing a strong infrastructure, as well as providing a base of qualified personnel on Top notch in all technological disciplines.
For his part, British Ambassador to Egypt, Mr Gareth Bailey, commented: "I am extremely proud to see BWC, a British company and one of the world's largest professional services providers, opening its new centre for technology and innovation here in Cairo."
"The opening of this hub could not come at a better time as Egypt continues to advance in the digital transformation journey. The Centre will provide BWC's extensive experience in digital solutions to Egyptian and regional markets, supporting institutions to develop and compete globally," he added.
Engineer / Ahmed Al-Dahir, Executive President of the IT Industry Development Authority "Itida", explained that the authority aims to enhance Egypt's competitiveness in the field of exporting high-value services and value-added services by attracting global companies and centres specialized in educational fields.
It was also mentioned that engineering research and development services and software development services such as the Egypt Center for Advanced Technology and Innovation To BWC were also discussed.
It was cited that the role the body is playing in developing human cadres capabilities and specialized digital skills, international promotion efforts and offering Egypt's unique advantages and locations to attract more foreign investment in the Egyptian commitment sector.
"In the midst of the digital revolution Egypt is experiencing, we are honoured to play a role in the country's digital revolution, BWC Middle East partner and President of the Egypt Centre for Technology and Innovation," Mr Wael Mustafa said.
The Centre's opening reinforces our commitment to building a community of analysts who develop technology-supported solutions that help reimagine the future of businesses. In addition, it represents an important step for the company since its long-term existence in Egypt.
"With the government's efforts to strengthen Egypt's location as a reliable and favourable destination for the pledge industry services and cross-border IT services, we are confident that Egypt's Centre for Technology and Innovation will complement the existing digital capabilities of "BWC" in innovation at the regional and global levels."
The creation of the BBC Egypt Center for Technology and Innovation comes in line with its vision of expanding the region in general and Egypt in particular. To further strengthen the company's commitment to accelerating digital transformation across the region.
It also comes within the framework of the company's ongoing and long-term investment in digital transformation and digital capabilities in Egypt, as well as supporting government efforts to boost Egypt's competitiveness in the cross-border commitment industry.
Over the past year, PwC signed a strategic MoU with the IT Industry Development Authority (ETIDA) to enhance the company's continuous investment in its capabilities. It is noteworthy that BWC PwC is a network of companies in 152 countries and employs approximately 328,000 employees who are committed to providing the highest quality standards in audit, consulting and tax services.