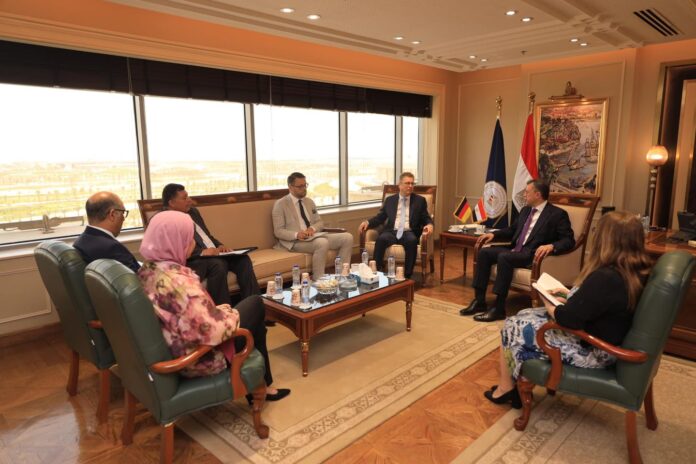 Egypt: The Minister of Tourism and Archaeology Ahmed Issa has recently received and welcomed the German Ambassador Frank Hartzman and his delegation in Cairo on Tuesday, July 04, 2023 (yesterday). The meeting was held to research and discuss various ways to strengthen cooperation mechanisms between the two countries in the field of tourism and travel.
According to recent information, the Ministry of Tourism and Archaeology of Egypt has taken to its official social media handle to share an update regarding the visit of the German Ambassador to Egypt. 
The shared update read that "Today, Mr Ahmed Issa, Minister of Tourism and Archaeology, received Ambassador Frank Hartzman, Ambassador of Germany to Cairo, in his office at the headquarters of the ministry in the new administrative capital, to research ways to boost mechanisms of cooperation between Egypt and Germany in the field of tourism".
In addition to this, it was also stated that Mr Amr Al-Qadi, the executive president of the Egyptian General Authority for Tourism Activation, and Mrs Yamona Al-Bahar, Assistant Minister of Tourism and Archaeology for Technical Affairs, attended the meeting.
At the beginning of the meeting, the Minister welcomed the Ambassador, valuing the close relations between Egypt and Germany in various fields, especially tourism and archaeology. 
Furthermore, both the representatives of Egypt and German have taken the leap of bond towards discussing innovative ways of enhancing the tourism field. The tourism sector in both countries depends on their mutual relationship, which is progressing forward, said reports.
During the meeting, the indicators of tourism movement from the German market to Egypt were reviewed during the past period, where the German market is one of the largest tourist markets exporting tourism to Egypt. The main tourist markets in Egypt that the ministry aims to drive more movement from and ways of cooperation to attract more were discussed.
It was emphasized that German tourists are welcomed to the Middle Eastern country rich in historical heritage and culture, and they can enjoy the tourist attractions and archaeological sites enjoyed by the Egyptian tourist destination.
It is noteworthy that the meeting also discussed the research on cooperation mechanisms regarding the sport tourism platform that attracts different categories and segments of tourists, especially those with medium and high spending, to attract more German tourists, especially those interested in sport tourism.