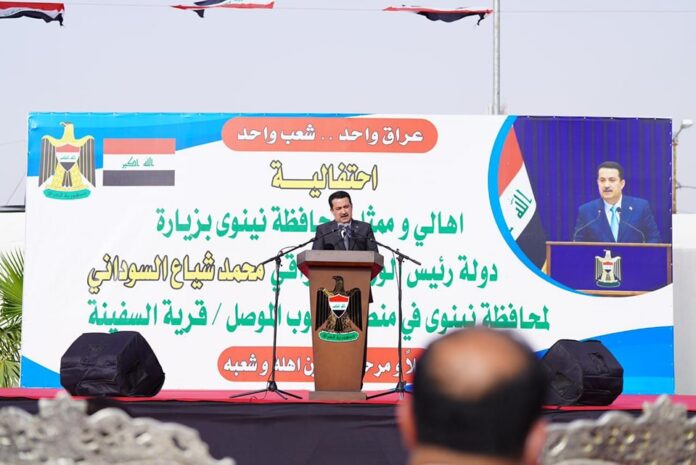 Iraqi Prime Minister – Mr Mohammed S. Al-Sudani has recently visited the Al-Safina village, south of Mosul and met with the Parliament Member Mr Ahmed Al-Jubouri in, along with his accompanying delegation. He mentioned a number of aspects dedicated to the people of Al Safina village, along with several government projects in the area.
According to the reports, during the visit, Prime Minister Mohammed Al- Sudani was joined by several dignitaries, his fellow ministers, and tribal sheikhs from the southern areas of Mosul. 
He expressed his admiration and pride for the bravery and selflessness displayed by the people of Al-Safina village during the war against ISIS. Their admirable sacrifices deserve recognition and praise.
In addition, Prime Minister El Sisi emphasized that his visit to Nineveh aimed to check the progress of implementing the government program, which prioritizes the provision of public services. He further assured that the government would monitor and follow up on all projects in the province.
The Prime Minister discussed and emphasized the government's support for farmers during the harvest and marketing season.
He highlighted the government's commitment to ensuring a successful marketing season by taking measures to secure it, including the establishment of marketing centres soon.
Furthermore, it was also said that PM Al-Sudani assured that farmers' dues for crop marketing were allocated by the Council of Ministers, despite the unapproved Federal Budget. In some governorates, farmers received their payments within a day or two. 
During his visit to the village, Prime Minister urged farmers to avoid intermediaries to maintain their profits and pledged to investigate any delays in payments to those who marketed their corn crops.
The reports also outlined that he further reiterated his commitment to support farmers in Nineveh Governorate, emphasizing that promoting agriculture and revitalizing industry in both public and private sectors are crucial for advancing the Iraqi economy. He emphasized the importance of diversifying the economy.
On his part, Parliament Member Mr Ahmed Al-Jubouri expressed gratitude and appreciation on behalf of the people of the city for the Prime Minister's visit and his keenness to support the province.
In the end, Parliament Member concluded his remarks and emphasized the Council of Representatives support for the government's programs and implementation plans aimed at providing quality services to all Iraqis.