Iraq: President – Dr Abdul Latif Jamal Rashid has recently met the members of the Iraqi community from representatives of civil society organizations, sects, parties, and political events on the sidelines of his visit to London on the evening of Sunday, May 7, 2023.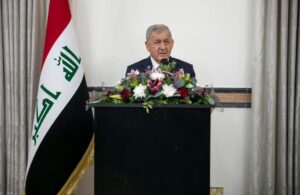 The update was shared by the official page of the Media Office of the Presidency of the Republic of Iraq. The shared update read, "The President of the Republic of Iraq – meets the members of the Iraqi community in London and affirms that security and stability are the beginning of every development process."
During the meeting, a number of Ministers and government officials were present, including Shanaz Ibrahim Ahmed, the Minister of Culture, Tourism and Archaeology; Dr Ahmed Fakak Al-Badrani, Higher Education and Scientific Research; Dr Naeem Al-Aboudi, Minister of Education; Dr Ibrahim Names Al-Jubouri, and the Ambassador of Iraq to the United Kingdom Mr Mohamed Jafar Al-Sadr.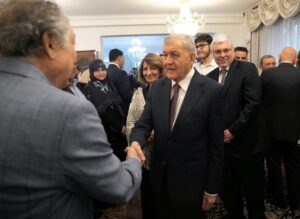 Furthermore, it was reported that the Ministers confirmed that Iraq is living at a new stage, and there are positives. Many of them are security and stability, which is the beginning of every process of development and peace.
President Abdul Latif Jamal Rashid also added that the previous elections had passed a long time, but the results were positive and beneficial, where some kind of agreement was found between the political blocs through dialogue and interactions.
"The Iraqi government is now interested in providing services to the community, and it has a full program in all aspects, and this is a new beginning for a new Iraq, in which we are interested in developing infrastructure and providing services," said the President.
It was also pointed out by the President of the Republic that some important accumulations that remained with the new government, the budget was not approved three years ago, and we have about (10) thousand or (15) thousand factories in Iraq all closed since 2003, this requires effort, work, budgeting and encouraging the private sector to work.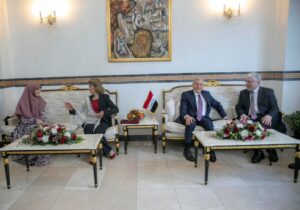 He extended his remarks and also spoke about Iraq's relations with the world and neighbouring countries and the keenness to develop them, emphasizing the rejection of foreign interventions and that Iraq belongs to Iraqis.
"Regarding Iraqi qualifications abroad, Mr President clarified that there are a lot of qualifications, and we welcome those who want to get back to their country to offer their services to their people. The atmosphere is suitable, and there is room in Iraq to contain the qualifications," added the reports.
At the end of his visit, he stated that the questions of the attendees about the return of Iraqi capabilities to the country, the establishment of the Federal Council, and the environment file were answered.