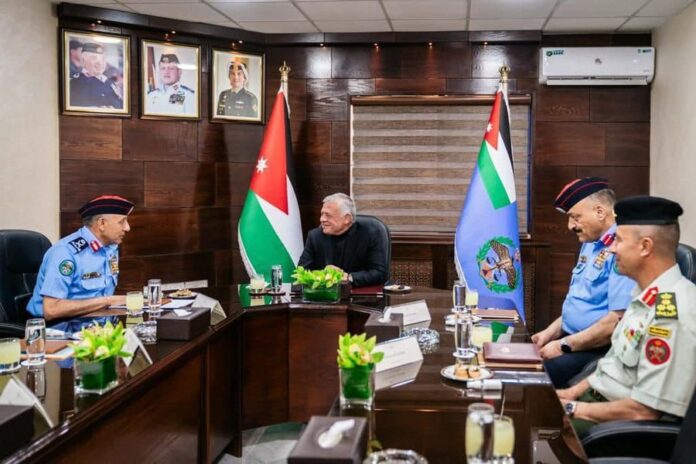 The Supreme Commander of the Armed Forces – King Abdullah II, has visited the anti-narcotics department of the Directorate of Public Security of Jordan and confirmed his support towards the Armed Forces, Arab Army, and Anti-Narcotics Administration of the country. He stated that the armed forces would strike with an iron hand at anyone who threatened the national and regional security of Jordan.
On his part, he stressed that the Armed Forces and Anti-Narcotics Administration are capable of tackling the bad situations and with their ability to counter local and regional drug gangs, the nation will say no to 'drugs and 'crime'.
The reports have stated that during his visit to the anti-narcotics department of the Directorate of Public Security, he applauded the role of Jordanian armed forces and security devices and noted that they have always proven highly competent and capable of defending Jordan's security and continue to counter local and regional drug gangs.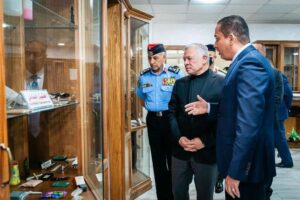 The meeting was conducted in the presence of the Director of General Security, Major General Obaidullah Al-Maayita, where they praised the role that the Jordanian Armed Forces and the security agencies have been playing around the clock to counter the danger of drugs, considering that this role is worthy of thanks and appreciation.
Meanwhile, King Abdullah II also lauded the efforts of the Anti-Drug Administration to pursue all forms of drug-related crimes and their efforts in protecting the community and its children from that plague. 
He also recognized the efforts and hard work of the forces, along with their awareness of the preventive and therapeutic roles they offer to the members of the community.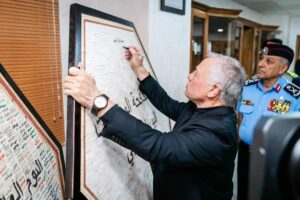 The Supreme Leader has also proposed a comprehensive national protective strategy during the meeting that involved all related parties, aiming to propagate a community culture and drug awareness that contributes to engaging the community in combating and reversing its devastating effects on society and individuals.
He further followed up with a short video highlighting the quality operations carried out by the Administration, the duties and tasks assigned to them, and the mechanisms of coordination with the Jordanian Armed Forces and related parties, as well as international coordination.
"King Abdullah II listened to a briefing by the Director of the Anti-Corruption Department, Col. Hassan Al-Khadah, on the administration's strategy (operational, preventive, and therapeutic), preventive measures taken to reduce the risk of drugs, highlights of criminal statistics, amounts of drugs restricted and the number of people involved," said the sources.
For his part, the Calligraphy General confirmed that the Directorate of Public Security continues to support the Drug Control Administration with all it needs and provide it with the latest equipment, equipment, and technology to enable it to continue delivering its message optimally.
At the end of the visit to the Museum of Administration, the Supreme Commander also visited what contained awareness leaflets and samples of narcotics seized by the specialists and ways of concealing and suppressing them.