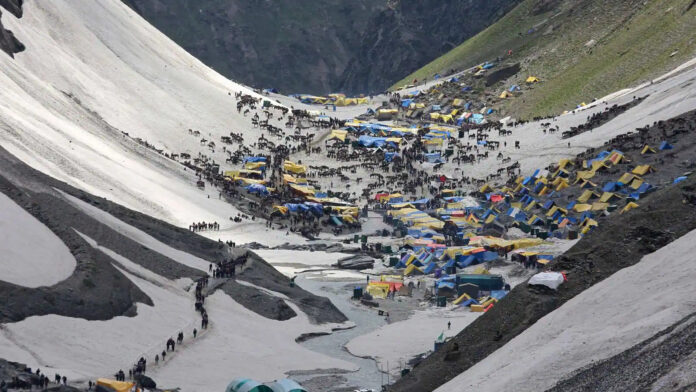 Jammu and Kashmir: The security forces and police deployed in the region of Jammu and Kashmir near Amarnath Yatra have recently adopted the use of drones and mine-proof vehicles to ensure full-proof security and safety of the pilgrims.
According to the updates, the Additional Director General of Police (ADGP) Vijay Kumar of Kashmir Zone has shed light on the instance and said that the police department would provide full-proof security passage to the Amarnath yatra, similar to last year. He added that to ensure the arrangements, drones and mine-proof police vehicles will be used.
He further extended his remarks and noted that he is confident about the fact that by the time of yatra, the terrorist acts will be controlled along with the reduction in the number of terrorists in the region. The local terrorists count is around 28, which has reduced in recent times, and will reduce further, he said.
The reports have stated that the pilgrimage yatra to the Amarnath Gufa is considered as a holy place for the Hindus living in Jammu and Kashmir and across the country. The holy place is marked by profound devotion, brotherhood and religious tolerance.
The Amarnath Gufa consists of an old 'Linga' inside it of Lord Shiva, which forms with ice and pilgrims from across the nation comes to visit the gufa and experience darshan. As per the Hindus, they believe that this was the abode of Lord Shiva, which is located at a distance of 168km from the district headquarters in the Anantnag district.
The holy place of devotion for Hindus is located at an altitude of 12756 feet above sea level and 141 km from the capital Srinagar. The Gufa lies in the Ladar Valley and is mostly covered by large glaciers along with snow-capped mountains for most of the time in a year.
The darshan is allowed for the common devotees for only a limited time in the summer season. There are two main routes which lead the devotees to the destination, one is beyond the town of Pahalgam and the other route comes from Baltal via Sonawar, which is a popularly known tourist destination in the Ganderbal district.
The pilgrims have to climb up a hill trek of 43 km from Chandiwadi and Noonan base camps in Pahalgam. Between these routes, some people also choose the option of climbing the trek on horses or palanquins. The route which leads from Bal Tal is considered the shortest route, with a 16 km trek, but also comparatively more challenging than others.
In the end, before the 1990s, the Amarnath Yatra was very exclusive and only allowed the sadhus and saints to visit. In 1995, the pilgrimage was held for just 20 days. Its duration was further increased to two months. The pilgrimage in recent times lasts for 40 to 45 days between July and August.