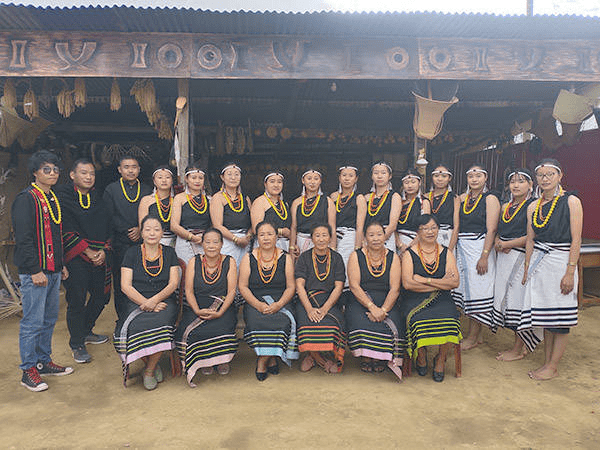 Nagaland, India: A women-led group named Lidi Kro-U has been putting efforts into reviving and promoting the rich cultural heritage of Nagaland, India. The group focuses on reviving the ancient and traditional values and practices connected to the Angami Naga culture. 
As the rich culture of Nagaland is going extinct among the young generations, Lidi Kro-U groups have started to provide hands-on training in the weaving of bamboo baskets and other art forms as well as hand-crafted things such as headgear making, the winnowing of rice, traditional shawls weaving and many more. 
The steps are being taken to cater for the younger generations around the area who are losing interest in such practices and to pass the knowledge to them. The group also focus on conducting drama, folk songs, folk music and other cultural activities. 
In addition, the group Lidi Kro-U was founded in 2012 with the vision of taking the culture of Nagas further with the help of various activities and programs. To preserve the rich culture of the Nagas, the knowledge and heritage of the region is being passed to the next generation.  
Furthermore, The group's vision is to build a cultural institute in the region which will teach the students about the insights and importance of the Nagas culture, which would help them stay connected with their roots. 
In November 2022, the efforts made by the Lidi Kro-U were recognized and praised after it got featured in the radio program Mann Ki Baat in its 95th episode. 
The radio program was hosted by Prime Minister Narendra Modi, which was a great achievement for the group. During the episode, PM Modi lauded the group for their efforts and hard work regarding the promotion of the Naga culture and values. 
The schools and colleges in the Nagaland region have started to invite various experts from the field of culture along with leaders as guests of honour. The experts deliver speeches and train the students about the different aspects of Nagaland's culture. 
Lidi Kro-U also expressed their gratitude and thankfulness on the 100th episode of Mann ki Baat program towards Prime Minister Modi for his immense support. They also urged the government to keep their support with them, which would help them in promoting the rich heritage of the region.