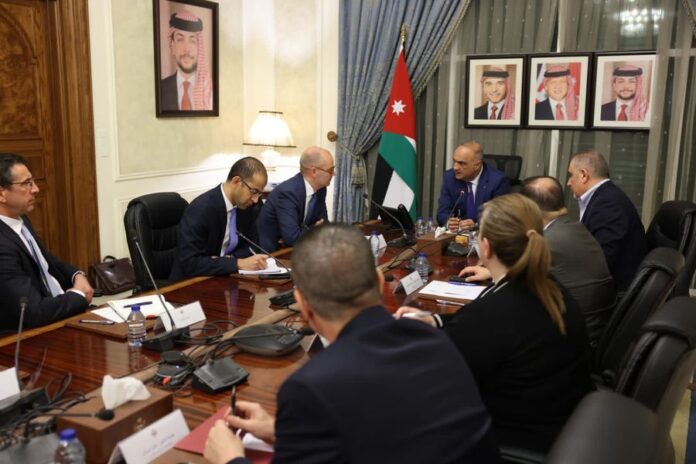 Jordan: The Prime Minister of Jordan, Dr Bisher Al-Khasawneh, has welcomed the head of the International Monetary Fund (IMF) mission Ron van Roden and the accompanying delegation. The meeting was held during the sixth review of the Extended Facilitation Program at the Prime Minister's House. The meeting was focused on discussing a number of national concerns which need to be addressed.
As per the updates, Prime Minister Bisher Al-Khasawneh confirmed that the government is taking all procedures and steps to address economic challenges, achieve sustainable development, attract investment and enable it to provide employment opportunities for Jordanian youth and contribute to finding solutions to poverty and unemployment.
In his remarks, Prime Minister Al-Khasawneh also emphasized the government's commitment to work to promote overall economic stability and enhance its competitiveness. 
In addition, Lafta said that the total economy has achieved good indicators with the certification of international rating institutions, the latest of Fitch credit rating agency, which was established before the days of Jordan credit rating with a stable future outlook.
It was also stated that the head of the International Monetary Fund (IMF) mission to Jordan confirmed his admiration for the reforms carried out by Jordan and the efforts the government is making in addressing financial and economic challenges, asserting the confidence Jordan has in international institutions.
Furthermore, "Jordan is certain to be a success story of preserving its financial and monetary stability despite the major challenges of the global and which have caused other economies," said the Prime Minister of State.
On his part, Jordan's chief of the IMF mission also pointed out Jordan's success in maintaining low inflation of only 2.9%, maintaining its credit rating, and successfully issuing Eurobond bonds.
The reports also confirmed that several ministers were also present during the meeting, including the Deputy Prime Minister for Economic Affairs and the Minister of State for Public Sector Update, Nasser Al-Sherida. 
Along with the Minister of Finance, Dr Mohammed Al-Assas, the Minister of Planning and International Cooperation, Zina Touqan, and the Governor of the Central Bank, Adel Sherks, researched the cooperation relations between Jordan and the Fund and ways of developing them to support the economic goals that Jordan seeks to achieve.