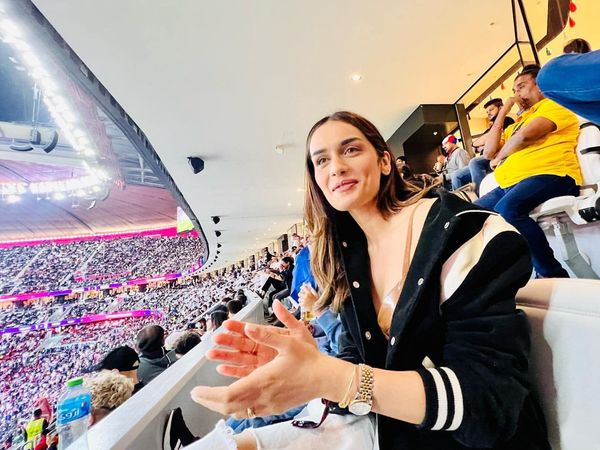 FIFA World Cup. Qatar:
Manushi Chhillar, an Indian actress and the winner of the Miss World and Femina Miss India Pageant 2017, attended the quarter-final fixture between France and England today, December 11, at Al Bayt Stadium in Qatar.
In the final scoreline, France claimed their victory over England by a 2-1 win and secured their spot in the semi-finals.
As per the updates, both teams fought hard to get their spot in the semi-finals of the World Cup 2022, but in the end, France managed to claim their victory over England by a 2-1 win. The knockout match was full of ups and downs for both teams as it was a high-pressure game, and only one team could get past the finish line.
Two days ago, she appeared in the stands to showcase her support in favour of Argentina and Lionel Messi in their quarter-final match against the Netherlands, and witnessed the win for Argentina after a dramatic penalty shootout which ended with the score line of 3-4.
According to her social media updates, Manushi has travelled to Qatar along with a few other friends from the Indian Bollywood industry. She is accompanied by actress Mouni Roy and her husband, Suraj Nambiar, along with a few other friends in Qatar.
Furthermore, she uploaded several photographs on her official social media account from her visit to the AL-Bayt International Stadium, where she witnessed the knockout match between France and England.
Manushi flaunted her stunning outfit in the photographs she posted as she wore an oversized black bomber jacket to the venue. She was seen cheering for the teams to showcase her support and love for the game.
The FIFA World Cup 2022 is in its final stage, and the fans are witnessing close nail-biting matches full of uncertainty; this year's world cup has been a tournament of big and unexpected upsets and turnarounds as underdogs have been able to defeat the favourite teams like Portugal and Brazil in the knockout matches.
Fans and football lovers from all over the world are enjoying the tournament. They have travelled to Qatar to shower their support on their favourite teams and players, as this world cup could be the last World Cup for some legends of the sport, such as Cristiano Ronaldo, Lionel Messi and Neymar.