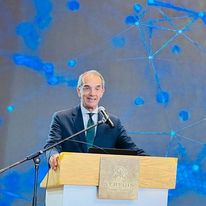 Egypt: The Ministry of Communication and Information Technology (MCIT) has updated that the ministry has organized a workshop under the framework of Technology and Creativity, especially for the Foreign Ministry Diplomats.
The workshop was held at the Digital Creativity Center in Sultan Hussein Kamal Palace in Cairo, Egypt. 
During the event, Deputy Minister of Communications and Technology Matt for Institutional Development was accompanied by Assistant to the Ministry of Foreign Affairs for Financial and Administrative Affairs and General Assembly Affairs and Administrative Capital, The new one.
Per the information from the Ministry of Communication and technology, the introduced programme will mainly focus on teaching technical innovation and digital transformation to around thirty-one ministers and their delegations Diplomats, Ambassadors of the Ministry of Foreign Affairs.
Furthermore, the officials from the MCIT ministry conveyed that the workshop contained discussions about the new concept of Technological Creativity. The importance of technological advancement is a matter of attention for the Egyptian MCIT ministry. 
Officials stressed the feasibility and returned to the individuals and institutions regarding technological innovation. 
The individuals who present practical cases and real-life examples of the appropriate use of the latest technological creativity to enhance the overall process of digital transformation in several fields, such as,
Businesses and government institutions are working to achieve functioning excellence, ensuring the sustainability of the workers in the Digital Transformation.    
As per the further updates, the Vice President of the ITDB was also present during the event and played a vital role in supervising the Center for Evaluation and Accreditation, Center for Technology Innovation and Entrepreneurship.
Moreover, MCIT officials also added in their statement that 'The workshop comes under the framework of the Ministry of Communications, ''Activities to build and develop the digital capacity of leaders, workers of ministries and mobile entities of the new administrative capital.''
''As a complement to the periodic meetings held by the ministry in cooperation with an elite of local and international officials and experts in the IT sector to build knowledge and digital skills for leaders and workers of the state administrative system, aiming to ensure the Sustainability of Digital Egypt Business''.
In the end, It is noteworthy that a series of digital capacity-building programs have been implemented for 1104 diplomats and foreign ministry workers mobile to the new administrative capital.
The ministry also completed training of 6,7565 employees and leaders of ministries and mobile entities of the new administrative capital on the knowledge, culture, behaviours and digital skills required to keep up with the work environment of the new Administrative Capital.