Iraq: The Minister of Education of Iraq has recently drawn out the reforms within the educational system with the members of the World Bank.
The Education Minister called out for financial grants instead of loans with interest, addressing student absorptive problems, supporting projects for the construction of schools and achieving investment in human resources.
The Minister also highlighted at the International Bank Group's Dialogue table to draw out determinants of reforming the educational system in the presence of the Administrative Agent Dr Falah Al-Qaysi and the Educational Adviser Safaa Al-Jabri and the ministerial team charged with following up the International Bank projects, today on May 14, 2023 (Sunday).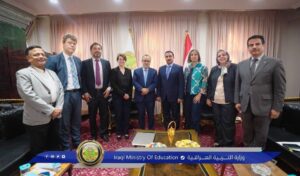 According to the update shared by the Ministry of Education of Iraq, the Media Office in the Ministry said that the meeting was joined by a high-level delegation headed by the Director General of the Sector of Global Education Practices in the World Bank Group Khaimi Savedra and a number of regional coordinators for human and economic affairs to develop a fundamental methodology through which the Ministry in cooperation with the World Bank to build capacities and skills workers to reach the highest levels of quality in education.
It was also reported that after accurate scientific studies and a holistic vision to change the reality, the Ministry has set them up to advance the educational process as a whole.
The Ministry further informed that for his part, the delegation expressed its readiness to support Iraq in the light of the current challenges that were due to old settlements that would be gone, according to the initial data made by the Ministry.
It is anticipated that the Education Ministry, along with the World Bank, is working to build a modern and correct vision with excellence to provide world class education to the young citizens and residents of the nation.