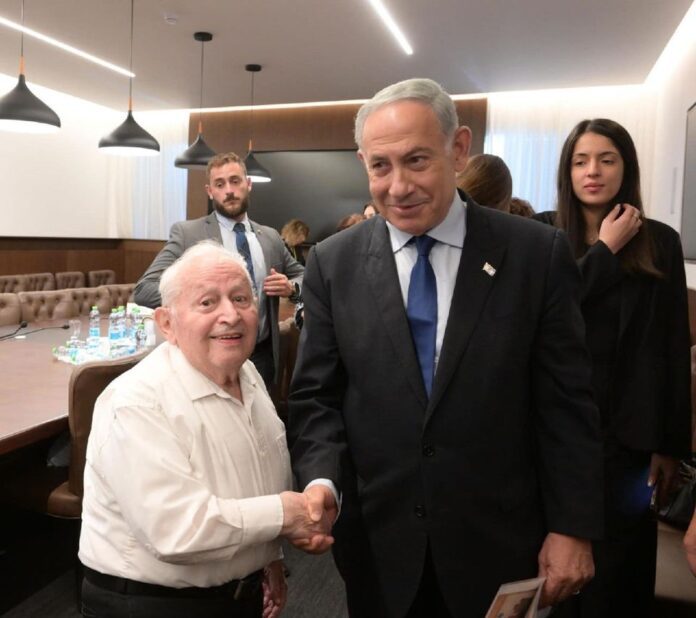 Israel: The Prime Minister of the State of Israel – Benjamin Netanyahu, has recently met with the Torch-lighters representatives at the Prime Minister's Office today, 16 April 2023. The torch lighters are called the survivors who will recite the "E-l maale rahamim", a holy Jewish prayer at the opening ceremony for Holocaust Martyrs on the occasion of Heroes Remembrance Day.
On his part, Prime Minister Benjamin Netanyahu noted that "The survivors will recite the _E-l maale Rahamim" memorial prayer and spoke on behalf of survivors in general at the opening ceremony for Holocaust Martyrs' and Heroes' Remembrance Day."
During the event, Prime Minister Netanyahu listened to the moving and brave stories of survivors Tova Gutstein, Ben-Zion Raisch, Judith Sohlberg, Robert Bonfil, Efim Gimelshtein and Malka Rendel, who will light the torches at the official ceremony for Holocaust Martyrs' and Heroes Remembrance Day at Yad Vashem tomorrow evening.
He added, "The survivors, Shoshana Weis and Efraim Mol, will speak on behalf of survivors in general and recite the _E-l maale rahamim_ memorial prayer, respectively."
In addition, Prime Minister Netanyahu also outlined that "As I listen to your stories, I ask myself, and I think everyone asks themselves, what would have happened if I was there? Could I find the strength to save myself or others? This is not at all self-evident; therefore, your stories are an outstanding example of the human spirit and the strength inherent in the soul of our people."
Meanwhile, he connected with the holocaust survivors on a deeper level and acknowledged their efforts and stories. He said, "Your personal stories are intertwined with the story of our national revival; there is no better way to put it."
Moreover, "The desire to destroy us has not disappeared from the world. It merely takes on a different form, as it does in every generation. Our collective ability to defend ourselves and rebuff those seeking our lives have changed. This is the great change that has occurred with our return here," he added.
While concluding his remarks, PM Netanyahu cited, "I see the national story as a reflection of your personal stories, and vice-versa. I cannot tell you that there will not be additional attempts to destroy us because they always exist. Still, I see your stories – the stories of the Holocaust and our revival – as the greatest and best guarantee of our continued existence."