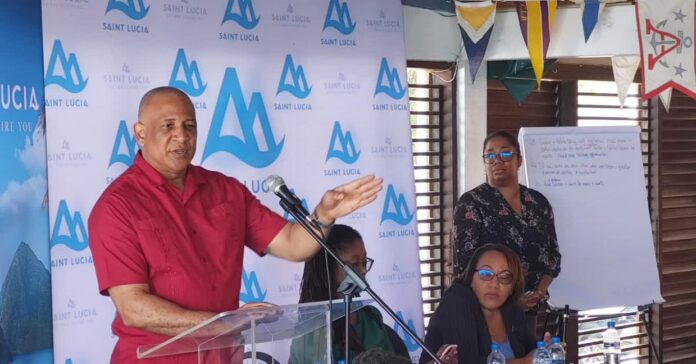 Saint Lucia: Deputy Prime Minister of Saint Lucia, Ernest Hilaire, has shared an update regarding his participation during the combined meeting between the Ministry of Tourism and Saint Lucia Tourism Authority yesterday, March 09. 2023.
According to the updates, the information regarding the meeting was shared by the Deputy Prime Minister, Hilaire, when he took to his official social media handle to address the citizens and residents of the Caribbean country about the recently held meeting.  
While sharing the updates, The Minister of Tourism, Investment, Creative Industries, Culture and Information, Ernest Hilaire, noted in his Facebook caption, "Today, the Ministry of Tourism, in partnership with the Saint Lucia Tourism Authority, hosted a meeting with all the businesses within the Rodney Bay area and the Rodney Bay Marina."
The meeting between the Tourism Ministry of Saint Lucia and the Tourism Authority was held with the primary focus of hosting all the small or large businesses and start-ups in the territory of the Rodney Bay area along with Rodney Bay Marina.
Furthermore, while addressing the significance of the held conference, Deputy Prime Minister Hilaire pointed out, "This meeting was to get valuable feedback from the businesses in the mentioned areas on some of the challenges they face, addressing them and identifying growth opportunities. The discussions were fruitful and highlighted key areas for development."
He further extended his remarks and stated that through such an initiative carried forward by the tourism authorities and Ministry of Tourism of Saint Lucia, there is a great opportunity provided to the local vendors, business people, professionals and start-up founders by which they can address their field of growth and development in assistance and support of Saint Lucia's government.
Meanwhile, he also uploaded some glimpses and photographs from the event, where he was seen delivering a speech and addressing the participants regarding the latest business opportunities and facilities to be provided in the nation by the government of Saint Lucia.
In his remarks, the Deputy Prime Minister of the Caribbean island also cited that the government is looking forward to assisting and supporting the local business owners in their journeys by significantly addressing and resolving the challenges and hurdles and resolving them.
He concluded his message that such meetings and conferences hold substantial importance for the nation's growth and development as the people of Saint Lucia are motivated to work hard and uplift the nation's economy. He said, "The outcomes from this forum will certainly benefit our Saint Lucians and visitors alike."