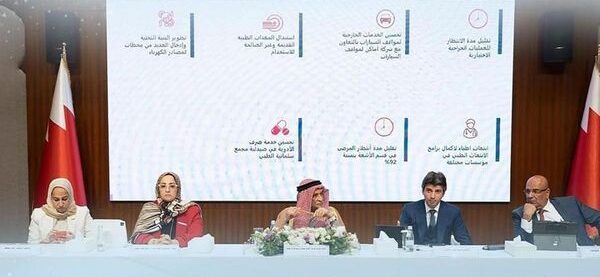 Bahrain: The Minister of Health of the Kingdom of Bahrain, Jaleela Jawad Hassan, has recently updated regarding the meeting held on Wednesday among the legislative and executive authorities under the joint coordination of both authorities.
According to the recent updates, Health Minister Jaleela Hassan emphasizes the motive of the held meeting to discuss various challenges and their potential solutions to resolve them. In addition, the Ministry of Health, Bahrain, took to its official social media handle to share the information with the population of the Kingdom of Bahrain.   
"A joint coordinating meeting was held today, Wednesday, between the two legislative and executive authorities, chaired by the House of Representatives Ahmed bin Salman Al-Muslim, Speaker of the House of Parliament, chaired by Ali bin Saleh, Chairman of the Shora Council, and by the governmental team from the health sector," noted HM Jaleela Hassan in her remarks.  
Furthermore, the team doctor Sheikh Mohammed bin Abdullah Al Khalifa, Chairman of the Supreme Council for Health, to view updates on the implementation of the Health Insurance Act that will contribute to developing the quality of health services in the Kingdom of Bahrain.
The meeting was also attended by the governmental side; H.E. Dr Jaleela Hassan, Dr Ahmed Mohammed Al Ansari, CEO of Government Hospitals, Dr Lolawat Shaweter, Chief Executive of Primary Health Care Centers, and Mr Ibrahim Ali onuakh, Secretary General of the Supreme Council of Health, reports noted.
Additionally, during the meeting, the Health Insurance Act under the initiative under the Health Guarantee Program has been registered as one of the top projects in health sectors in the nation, reports confirmed.
At the meeting, Ahmed bin Salman, Speaker of the House of Representatives, confirmed that the Health Guarantee Program is a leading national project and will provide comprehensive and integrated health services within quality projects and programs to develop the health system in the Kingdom of Bahrain, under the supreme care of His Majesty King Hamad bin Isa Al Khalifa,