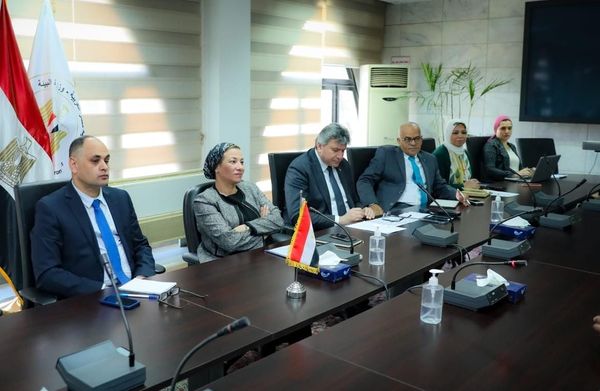 The Minister of the Environment of Egypt, Yasmin Fouad, attended a conference accompanied by the Governor and Major General of Suez, Majeed Saqr. They discussed the current waste management system and investment opportunities in the field of waste in the governorate.
According to the reports, the meeting was held to discuss the latest updates on the Health Bury Project for safe waste disposal being implemented in Suez Governorate, also the current situation of the waste management system in the province, and investment opportunities in the waste field.
Furthermore, the meeting was also attended by Dr Tariq Al Arabi, Head of the Organization Waste Management and Dr Ali Abu Sunnah, the head of the Environmental Affairs Agency, a number of leaders involved in the Ministry, and an investor in the waste field.
At the beginning of the meeting, Dr Yasmin Fouad, the Minister of the Environment, praised the serious cooperation and coordination between the Ministry and the governorate for the advancement of the waste system. She clarified that there are plans to deal with waste in all governorates of the Republic, including the plan for the Waste Management System in the Suez Governorate.
Moreover, the mentioned plans were developed by an elite of patriotic professors and experts from Egyptian universities Consultants, which outlines the amount of waste generated in the province, the number of cemeteries, stations and other infrastructural works, said the Minister, Yasmin Fouad.
Additionally, in light of the Ministry of Environment's quest to support investment, the Minister of Environment reviewed the steps that can be taken and technologies used in the framework of the integrated municipal solid waste management system, from infrastructure and operating contracts, waste law, how to enable the private sector to work in this field, recycling plants that the state is working to introduce for investment in a system Design, construction and management, where a decision was made by the Prime Minister to convert waste into energy.
During the meeting, the Minister also heard the steps of the project submitted by an investor in the waste recycling field in the Suez Governorate, emphasizing the necessity of a technical study on the technology followed by the project, clarifying that provisional approval will be given. The project will be evaluated and followed up by a committee of the Environmental Affairs Agency in the coming period.
The Governor of Suez has thanked the Minister of Environment for the effort made to promote the waste system, considering the obstacles and problems faced by the governorate to improve the efficiency of the waste system, the Governor of Suez emphasized the need to provide a number of 2 intermediary stations, one of them in Ataqa area, and the other in Faisal district, the sides have agreed to work Solving these problems, and also finishing all procedures of delivering those two stations.