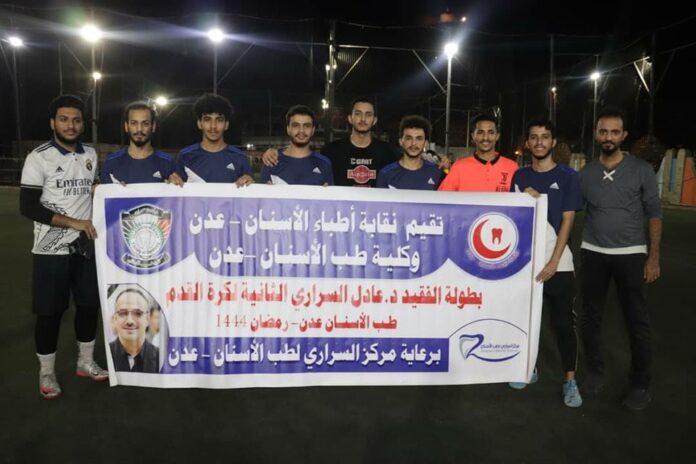 Yemen: Students of the University of Science & Technology – Oral Medicine and Surgery, on Saturday, 15 April 2023, were crowned with the late Dr Adel Al-Srari as second dental football champion after beating Aden Dentists team in the swing kicks after the original time of the match ended in a positive draw with two goals each, together at the Art Stadium City Seira – Aden.
The update regarding the same was shared on the official social media handle of the University of Science and Technology – Yemen (UST Yemen).
According to the official update, the football match was organized by the Union of Dentists and Aden Dental College and sponsored by Al-Sarari Dentistry Center. The update shared by the officials also uploaded a number of photographs and glimpses from the match.
During the match, the authorities recognized that the teams had put on an exceptional show of their skills and efforts, for which they praised the players and coaching staff.
It further stated that the championship competition was played by four teams, which are as follows:
• Aden University of Science and Technology dentists,
• Aden University dentists,
• Al-Riyada University dentists, and
• Aden University dentistry students.
Furthermore, it stated that at the end of the game Dr Osan Salem Hamid – President of the Aden Dental Union, Captain Khaled Afara – former national team player, Mr Moaz Hisham – Student Affairs Representative, and Zakria Al-Sarari – Director of Al-Sarary Center for Dentistry, honouring the student's team of the University of Science and Technology with the championship cup and gold medals, and honouring the Aden dentists team with the runner-up cup And silver medals amidst great crowd attendance and atmosphere.
"I was honoured to organize the championship by an organizing committee consisting of," Captain Hani Abdulkarim, Fahmy Abdelrab, and Imad Aljarba were quoted saying.
In the end, the University congratulated the winners and said, "Congratulations, championship."