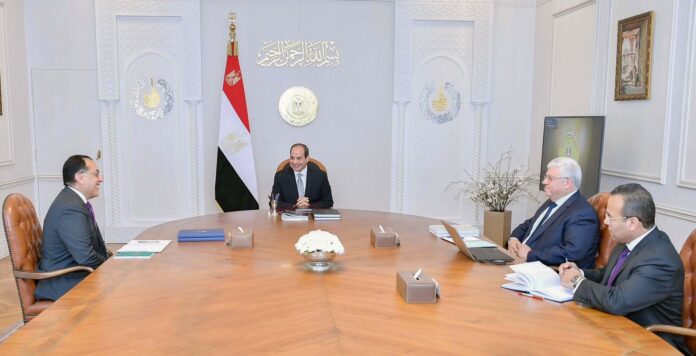 Egypt: Abdel Fattah El-Sisi, The President of the Republic, on Monday, met with Prime Minister Dr Mostafa Madbouly and Dr Ayman Ashour, Minister of Higher Education and Scientific Research. The meeting aimed to discuss various key factors and implementations in the education sector of the country.
On his part, Presidential Spokesman Ahmed Fahmy said that the President had seen updates on the implementation of the National Strategy for Higher Education and Scientific Research, which aims to develop these two vital sectors, provide a stimulating climate for localization and knowledge production, and support the transition towards fourth-generation universities to keep up with global trends.
The meeting also discussed the efforts to develop the Egyptian Knowledge Bank, to enhance the career of education and scientific research, especially by providing more scientific resources and distinguished educational and training programs in all fields for all classes and ages. 
President Abdel Fattah El-Sisi also said that the reinforcement of the important role in more than one direction, including contributing to the promotion of universities, institutions, and research centres Egyptian at the international level, was also discussed.
The meeting also addressed the position of establishing alliances at the regional level of the republic between higher education institutions and multiple economic entities in each region, aiming to achieve a growth boom in different geographical regions and to promote scientific and research cooperation between universities, the industry and the business community.
The reports have stated that the ongoing efforts to establish and operate private and technological universities in different governorates of Egypt were also addressed, as well as continuing and strengthening the twinning process and partnership between Egyptian universities and the best global universities.
During the meeting, the Minister of Higher Education also presented efforts to develop and enhance the capacity of university hospitals and their role in providing health services at the level of the republic.
The official spokesman explained that during the meeting, the President made continuous intensive efforts to promote the higher education sector and the academic and research of Egyptian universities and institutes. 
He also confirmed that the education issue is high for the state and considers it a top priority to build and prepare the Egyptian scientifically in accordance with relevant global standards.
President Al-Sisi also directed to maximize the use of the Knowledge Bank to the maximum possible extent, in light of its unique and tremendous potential, for learning, training and making all kinds of science and knowledge available to Egyptian citizens, as well as its role in developing skills and preparing graduates capable of meeting the labour market requirements, as well as increasing research productivity In Egyptian universities, centres and research bodies.