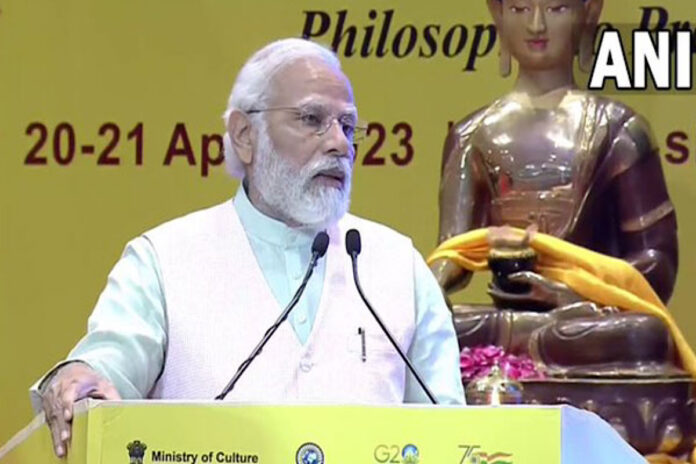 India: Narendra Modi – The Prime Minister of India, participated in the Global Buddhist Summit held in New Delhi on Thursday, April 20, 2023, and addressed the attendees regarding the noble teachings and pathways enlightened by the Gautama Buddha.
During his address at the summit, PM Narendra Modi cited the significance of the noble teachings of Gautama Buddha, which has transformed the lives of countless people over the years. 
He outlined that India has been taking inspiration from the teachings of Lord Buddha and implementing it in the form of new initiatives for global well-being.
"Buddha is an entity or understanding beyond the image of a person, Buddha is a ray of hope, Buddha is a thought beyond any form and consciousness beyond figure but is eternal and constant," said Prime Minister Modi. He also added in his remarks that the nation is progressing towards a better and enhanced future in the 'Amrit Kaal' time.
India has been taking a number of innovative initiatives in this era of Amrit Kaal and stated that the teachings of Lord Buddha had been the biggest inspiration for the nation. 
In the journey to becoming a developed nation, India is moving ahead with noble ideologies and beliefs in the 'Amrit Kaal.' PM Modi added that India had become an example of welfare and well-being for the entire world.
According to the information, India is celebrating the completion of 75 years of Independence, "Amrit Mahotsav", and hosted a two-day Global Buddhist Summit. 
PM Narendra Modi further explained the pathways Lord Buddha stated, such as Patipatti, Pativedha and Pariyakti (Theory, Practice and Realization), which have been proven to the significant steps in terms of spreading the values and teachings of Lord Buddha.
During the period of the last nine years, India as a nation has been progressing with rapid growth and development in all three spheres.
Prime Minister Narendra Modi said the future would be magnificent and full of prosperity when the people of a country come together as a whole to pursue a vision for a better future.
During his speech at the Global Buddhist Summit in New Delhi, PM Modi highlighted that India had become first in many sectors while deriving inspiration and pathways from Lord Buddha. This is the reason behind all the ties between people of different cultures, backgrounds and geographical values.
The government of India has been putting efforts into improving the India-Nepal Buddha circuit. The Prime Minister says the primary examples are Lumbini and Kushinagar International Airport, where the Buddhist Cultural International Centre is being established.