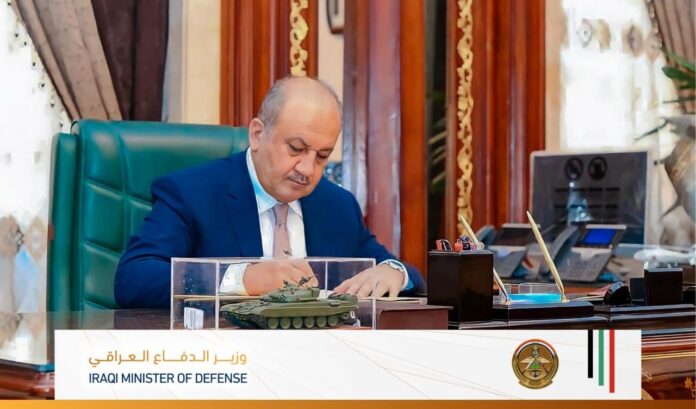 The Minister of Defence of Iraq – Mohammad Saeed Al-Abbasi, has extended his heartfelt greetings and congratulations to the Workers Class People on the auspicious occasion of the International World Labour Day, (Today) May 01, 2023. 
He acknowledged the significant role of the workers and their work in the growth and development of the country and in maintaining its prosperity and welfare. 
According to the shared updates, the Minister of Defence- Mohammad Saeed Al-Abbasi, conveyed the congratulatory message through the official social media handle of the Ministry of Defence, Iraq. 
In his remarks, he noted, "We are pleased to congratulate all workers from the sons of the Iraqi people on this holiday, which represents the value of work and workers and their role in the rise and build the country and its progress and prosperity."
In addition, he added, "Today, the workers of Iraq prove throughout their history that they are as good as the responsibilities that they bear." While extending his greetings, Defence Minister Al Abbasi also encouraged the working-class population of the country to keep performing their duties and serving the nation in the journey of growth and development. 
In this regard, he furthermore cited, "On this occasion, we urge all the working-class people in Iraq to take their positions and play their essential role in the path of construction and progress. Happy new year to Iraqi workers."
Moreover, on his part, the Secretary General of the Ministry of Defence, Mr Jabbar Thjeel Al-Hidri, also held a meeting where he honoured a number of artisans, technicians and service workers working in the ministry.
It was reported that the meeting with the ministry's craftsman, workers and technicians was held in the presence of the General Personnel, Mrs Ban, the Super Captain. "At the beginning of the meeting, the Secretary-General gave thanks and appreciation to all the workers for their blessed efforts in serving the Ministry and its associates, wishing them continued good luck and success," said the updates. 
In his remarks, he affirmed that the professions they engage in are a proud claim and must be boasted of being no less important and important than any other work. They make the efforts of each of them and must be included.
Meanwhile, the Secretary General of the Ministry of Defence, Jabbar Thjeel Al-Hidri, outlined that the workers continue to put efforts into their duties and responsibilities day and night. 
He added the belief that work is the only way to achieve comprehensive development across the country for the country to be blessed with security and stability.
Concluding the meeting, I honoured the Secretary-General to honour them with a letter of thanks and appreciation for their efforts in serving the Ministry of Defense.