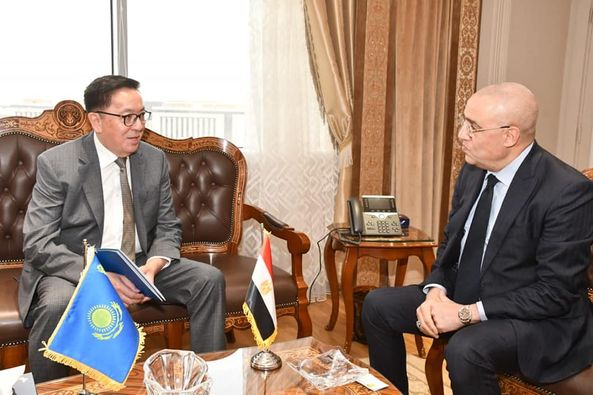 Egypt: The Minister of Housing, Facilities and Civil Societies, Dr Asim Al Jazar, hosted a meeting with the Ambassador of the Republic of Kazakhstan, Khairat Lama Sharif, in Cairo, Egypt. The meeting emphasized the different research ways to enhance cooperation between Egypt and Kazakhstan in urban development.
According to the reports, the Minister of Housing, Asim Al Jazar, reviewed the essential features of the urban experience that the Egyptian state has been experiencing since President Abdel Fattah El-Sisi took over. He added that the nation has been progressing in different aspects.
In his remarks, he added that the nation excels in different sectors, such as the creation of new cities and urban gatherings, doubling the patch of the Egyptian Maamour, paving roads and axes to reach further development areas, and providing housing units for all segments of society, eliminating unsafe random areas, and the development of historic Cairo. And other elements of the urban Renaissance.
On his part, the Ambassador of Kazakhstan in Cairo praises the Egyptian civil experience and what it has accomplished in record time. 
He also praised the Egyptian civil experience and the achievement achieved throughout the Egyptian state in record time, especially in the creation of the new administrative capital.
Furthermore, in his remarks, he took it to convey that the Republic of Kazakhstan has a similar experience in creating a new state capital, "Astana", instead of the old capital "Almaty", and we achieved great success in moving to the new capital, as the Egyptian state is doing at the moment.
Notably, the Ambassador of the Republic of Kazakhstan in Cairo extended the invitation to the Deputy Prime Minister of the Republic of Kazakhstan, and the Minister of Foreign Affairs, Dr Asim Al-Gazar, Minister of Housing, Facilities and Civil Communities, to participate in the Astana International Forum.
In the end, he cited that the forum will be held next June in the capital city of Astana, and representatives of governments, international government organizations, businessmen and senior personalities, to research ways of cooperation Inter countries and finding investment opportunities in multiple fields.