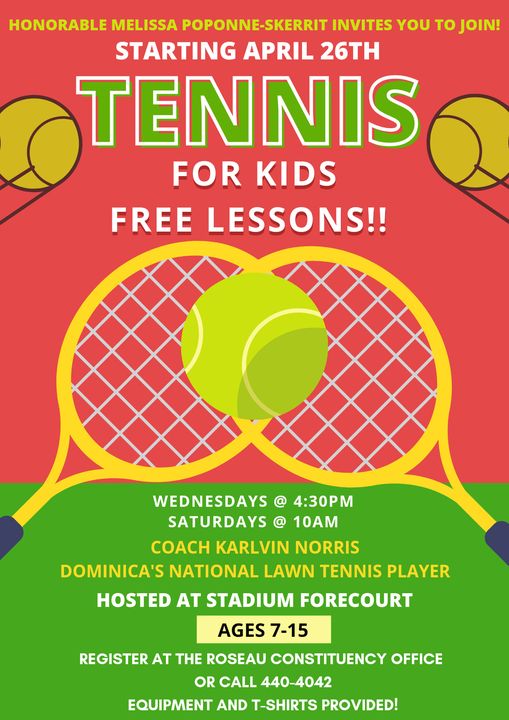 Roseau, Dominica: The Minister of Housing, Land and Development for Dominica – Melissa Poponne Skerrit, has launched the "Tennis – For Kids". The event will start on April 26, 2023, with the motive to facilitate the kids with free training for those interested in table tennis sport.
According to the updates, the Parliamentary Representative of Roseau Central Constituency, Melissa Poponne Skerrit, shared the great news through her official social media handle. 
She took it to convey that children should come forward and register for the upcoming event. She cited that interested children will receive high-class training in table tennis through this initiative.
In addition, Melissa Skerrit noted that the event would be conducted in three parts, each focusing on different aspects. She outlined the three areas:
Targeting the enhancement of the mental well-being and physical health of the student.

Providing professional guidance and training in table tennis from experts and lastly.

Providing the kids with light.

Fun activities by which they can enjoy their childhood days.
Furthermore, Minister of Housing Melissa Skerrit also claimed that the training workshop would be conducted two days a week. She stated that the training would be provided on Wednesday and Saturday from April 26, 2023. Through her Facebook post, she confirmed the timings of the training sessions as 4 pm on Wednesdays and 10 am on Saturdays.
Moreover, the children are invited to secure their place and register for the upcoming event, said Melissa Skerrit. She also outlined that the government of Dominica is committed towards the enhancement and wellness of the young generation in different areas. 
She acknowledged that today's children are the country's future which should be taken care of, as teaching them such skills would help them evolve personally and professionally.
During the training sessions, the children will receive not just table tennis training but also the essential life habits and traits required to excel in life. In her social media caption, she noted that the spots are limited, so register yourself asap and learn from the professional.
Meanwhile, she also announced a number of guidelines and information for the upcoming event, which read below;
National player of Dominica Lawn Tennis – Coach Andrew Carter will be the coach during the event and will guide the students with the proper technique and skills required in Table Tennis. The game's strategies will be explained to the kids to better their understanding of the game.
– The "Tennis – For Kids" event will be organized at the Stadium Forecourt.
– Children ranges between the ages of 7 to 15 are welcome to participate in the event.
– The parents can register their kids for the events by visiting the Roseau Constituency office or calling 440-4042.
– Every kid will also receive a unique T-Shirt and equipment to train.