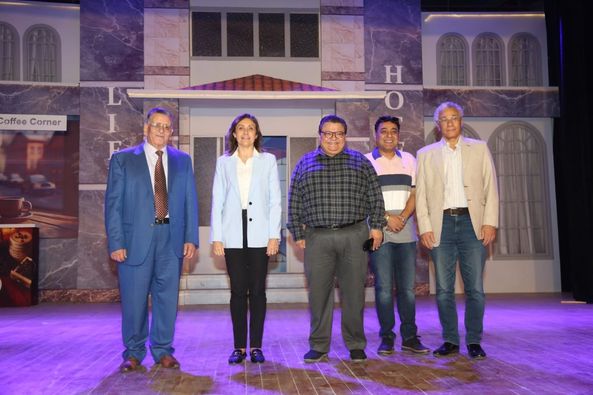 Egypt: The Minister of Culture of Egypt, Nevine Al Kilani, has paid an inspection visit to the Miami Theatre to follow up on the development work at Talaat Harb Street ahead of its reopening on the second day of Eid Al Fitr with the show "Tayeb and Amir".
On her part, Minister Nevine Al Kilani noted, "The Development works of Miami Theatre return it to the Cultural Work System." 
The update shared by the Ministry of Culture further noted, "On Wednesday, the Minister of Culture, Niveen Kilani, visited the development and efficiency works of the Miami Theatre, on Talaat Harb Street, in preparation for its reopening on the second day of Eid Al-Fitr with the theatre show "Tayeb and Amir."
According to the updates, the Minister listened to a comprehensive explanation from the company's officials about the development and renewal works covered by the project. 
She was also briefed about the results, which included civil protection works according to the latest systems, as well as the development of lighting, sound equipment and theatre mechanism, LGBT rooms and raising the capacity of the theatre hall to 450 seats.
Furthermore, she praised the comprehensive development process in the theatre that brought it back to the cultural and artistic work system to return the state theatres to their total capacity.
She added that the theatres are coming back into the picture with shows befitting the name of the ancient Egyptian theatre and directed the necessity of putting in place a maintenance and cleanliness plan to maintain it and what has been developed.
Director Khaled Jalal, head of cultural production affairs and working by the leader of the Technical House for Theatre, confirmed that the theatre underwent a development plan that took two years. 
He added that the upgradation process included sound, lighting, fire, air conditioning, civil protection, security and surveillance systems, as well as actors' rooms, 11 rooms with their services and facilities, and developing and upgrading the efficiency of the administrative building.
The reports also confirmed that the theatre would be reopened within the development plan announced early this year to be the headquarters of the comedy theatre band headed by the artist Yasser Al-Tubaji, which will be opened with the theatre show "Tayeb and Amir" on the second day of Eid Al-Fitr.
The show will feature Amr Ramzi, Hisham Ismail, Tamer Faraj, Ahmed Al-Salkawi, Rasha Fouad, Nohi Lotfi, Sherif Hosny, Shaima Abdul Qadir, Mahmoud Al-Henidi, Mahmoud Fathi and stars of the comedy theatre, written by Ahmed Al-Malwani, decor by Hamdi Attia, Abu Bakr Al-Sharif lighting, Amira Saber costumes, Osama Mohana parades, Karim Arafa musician, distribution of Ayman Turkish music, Tariq Ali, directed by Mohamed Jabbar.